Disclosure: This shop has been compensated by Collective Bias, Inc. and its advertiser. All opinions are mine alone. #GoldfishGameTime #Collective Bias
If you're looking for a fun game kids will enjoy this spring, you're in the right place! Today on Theresa's Reviews, I'm sharing a creative game idea that will bring the delight of game time fun indoors or outdoors with Pepperidge Farm® Goldfish®  crackers Colors and Pepperidge Farm® Goldfish®  crackers Cheddar from Walmart.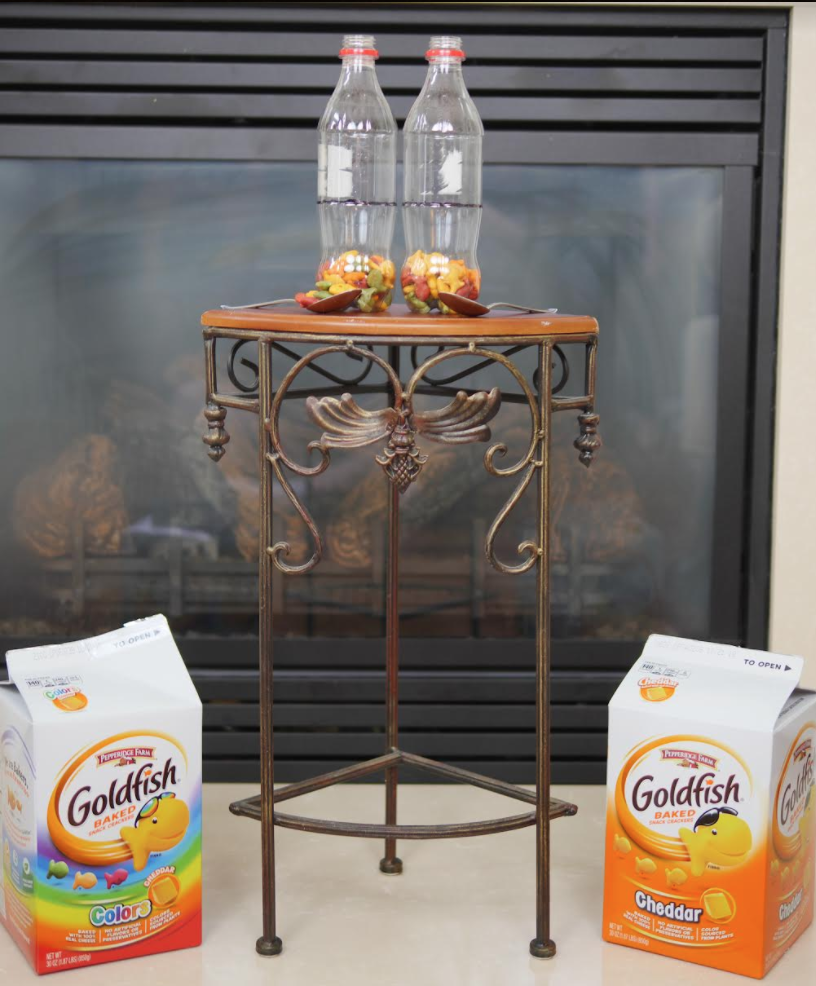 Click this image to shop the products needed for the Ready, Set, Goldfish Crackers! Game.
Ready, Set, Goldfish Crackers! Game
My children love snacking on Goldfish crackers, and they were excited to hear that we were turning them into a game that would be perfect for springtime outdoor fun.
For the Ready, Set, Goldfish! game, you need a large 30 oz. carton of Goldfish crackers on rollback for $6.46 available in-store at Walmart only. Since you might go through a lot of Goldfish crackers with this game, getting a good deal helps.
Other materials you need include two clean, empty bottles. Use a permanent black marker to create a line about half way up the bottle. You will also need two spoons. When you have gathered all your supplies, you're ready to play! Go over the rules with everyone, and then begin!
Have the children stand at the starting point holding an empty spoon. Place the Goldfish cracker cartons next to them. Place empty the bottles at the other end. When you say go, they scoop the snacks out of the carton and begin to race towards the bottles. Players cannot pick up any that fall of the spoon.
Each player must empty the Goldfish crackers on their spoon into the bottle. Since the bottle opening is small, this makes it more challenging. You can use your hands to put the snacks in the bottle. Then, the player returns and another member of their team goes. The first team to reach the line on the bottle wins.
Part of the challenge is that players want to fill their spoon with as many Goldfish crackers as they can, but this makes you more likely to spill the snacks.
Make the game easier for younger children by showing them how to use one hand to cover the top of the spoon, or encourage them to only bring a couple Goldfish crackers at a time. If it's still too challenging, you could use plastic cups instead of bottles.
This game can bring smiles to the whole family! It's a great way to get outside and be active when the weather's right, or can be played indoors if you have a large play area. You can find more game inspiration here!
For more fun family games, make sure to follow Enjoying Family Life on Instagram, Twitter, Facebook, Pinterest, and YouTube.
Disclosure: This shop has been compensated by Collective Bias, Inc. and its advertiser. All opinions are mine alone. #GoldfishGameTime #Collective Bias