A homemade meal is a filling food; however, it has become a rare delight in the busy world where time is a valuable asset. What if we tell you that there is a recipe that has surpassed all the time constraints and is loved by all?
Yes, you heard it right: The easy-to-cook ground chicken burgers! This burger is a perfect blend of flavors and easiness that all prefer, especially the busy ones and the foodies.
So, if you're prepared to live a simpler lifestyle without sacrificing flavor or satisfaction, come along on this culinary adventure as we share the secrets for creating the best Easy to Cook Ground Chicken Burger.
You only need a pan, a few ingredients, and the readiness to start the process by waking your inner kitchen expert up. Let's heat the stoves and prepare for the burger revolution!
Preparation & Cooking Time of Ground Chicken Burgers
The preparation time for the ground chicken burger is 15 mins, whereas the cooking time is approximately 15 to 20 mins, while for the servings, you might add up a little about 5-7 more mins; without getting much into the details, let's get started, beginning with the ingredients listed below.
Ingredients
An amazing ground chicken burger requires a fully powered list of ingredients so that every flavor touches your soul when you take the first bite. Here are the ingredients required to cook your easy, breezy burger…
| | |
| --- | --- |
| 1 Lb/pound Ground chicken | ½ teaspoon ground paprika |
| One large egg | Coarse sea salt as per taste or need |
| 1 cup seasoned Bread Crumbs | 1 Tablespoon Worcestershire sauce |
| Two cloves garlic (minced ) | Two tablespoons of grated Parmesan cheese |
| 1/4th Cup Minced Onion (1 medium onion) | ½ teaspoon fresh ground black pepper |
| One tablespoon of Dijon Mustard | 2 Tablespoons freshly chopped parsley |
| Burger buns | Sliced Onions, tomatoes, and lettuce (as per need for dressing burger) |
Cooking Tools Required for Ground Chicken Burgers
The perfect cooking of ground chicken burgers is done only by using perfect cooking tools that will surely give the ultimate food satisfaction to your taste buds. Let's learn which kitchen utensils or tools can be used for this super delicious dish:
A griddle pan or skillet is necessary for preparing ground chicken burgers. This essential cookware serves the optimal surface for making a delicious burger crust and sealing in juicy flavors. Cast iron is highly suggested for cooking burgers on the stovetop or the grill because the iron in the pan holds heat very well and will help your burgers cook more uniformly. Preheat the pan and add oil before cooking the ground chicken burger patty.
A good chopping board of plastic or wooden material is a must while cooking this mouth-watering ground chicken burger. The chopping board ensures plenty of space for cutting vegetables and the chicken mixture. Also, the chopping board ensures clean and hygienic cooking as the wood and plastics are easy to clean after use.
The salt and pepper grinders are essential while cooking the ground chicken burgers. To make your patties even more flavourful and aromatic, use these grinders to employ freshly ground salt and pepper.
The grinders let you grind the salt and pepper as per your preference, enhancing the flavors of these elements in the burger. Because of their ergonomic shape, they are simple to use and provide precise control over how much spice you add.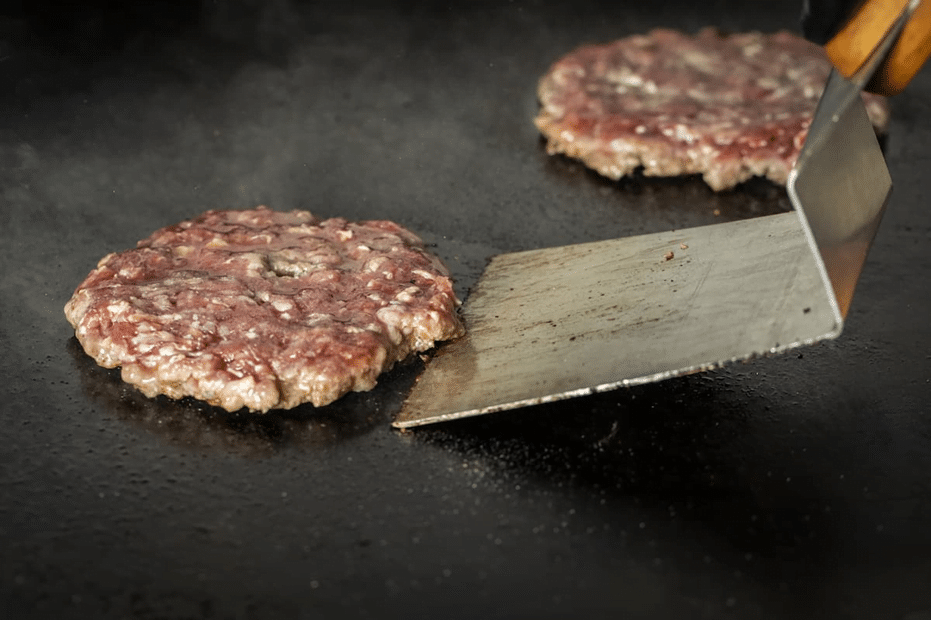 Using a good and sizeable spatula is a much-needed tool for cooking ground chicken burgers for effortless and efficient cooking. The flat surface of the spatula helps in the easy flipping and handling of the buns and patties so that they cook nicely on both sides. The spatula's design lets the patty be in place without breaking it apart, ensuring that your perfect bite stays safe and in place!
A meat thermometer is a kitchen gadget used for safety and to guarantee a thoroughly cooked chicken patty when making ground chicken burgers. Ground chicken must reach a safe internal temperature of 165°F to be free of dangerous bacteria and germs and to guarantee that it has been cooked thoroughly.
You can monitor the burger's internal temperature as it cooks by using a reliable meat thermometer. This keeps the burgers juicy and prevents them from being overdone.
Wearing an Apron while you cook this super delicious ground chicken burger will keep your clothes from getting dirty and ensure that you cook this delicious food in no time and without worrying about your clothes! Additionally, an apron with pockets might be handy for storing necessary kitchen tools, like a spatula, close at hand.
A meat mincer for making the ground chicken burger is necessary kitchen equipment because your chicken patty can't be perfect without it. A meat mincer is used to mince the chicken in a very equal manner. Nicely minced chicken ensures a nice and perfect chicken patty that will elevate the flavors of your chicken burger.
These are the few essential kitchen tools that are very much necessary for cooking delicious and aromatic ground chicken burgers, as these will ensure everything is perfect. In contrast, you cook your burger even in less time. Since we now know the ingredients and tools required, let us move to the "cooking plot," which is the recipe with the directions for this super delicious and filling food.
Recipe Secrets to Tantalise Your Taste Buds
Knowing a recipe with all the proper steps is crucial for cooking any meal. If you're unclear about the steps, you may be unable to stand at perfection with your burger. So, let's help you with the last stage: how this mouth-watering ground chicken burger is cooked!
Step 1: Bread Crumb Mixture
Take a bowl and add 1 cup seasoned Bread Crumbs, ½ teaspoon ground paprika, sea salt as per taste or need, 1 Tablespoon Worcestershire sauce, two cloves garlic (minced ), two tablespoons grated Parmesan cheese, 1/4th Cup Minced Onion (1 medium onion), ½ teaspoon fresh ground black pepper, and one tablespoon Dijon Mustard.
Thoroughly mix these ingredients in a bowl so that every flavor of the ingredients comes out well and can be incorporated into the tasty ground chicken burger.
Step 2: Ground Chicken and Egg with Bread Crumb Mixture
Add 1 lb of ground chicken in a bigger bowl, and break an egg on the ground chicken. Blend both ingredients well so that an equal mixture is prepared without lumps. In this mixture of ground chicken and egg, pour the mixture of bread crumbs that we've made in Step 1. Now, blend both mixtures thoroughly to maintain an equal and soft 'dough-type consistency.
Step 3: Make a Chicken Patty
Take the above mixture and divide it so that four patties are made. One at a time, place the mixture in your palm, begin molding it into a patty form, and then gently press it to a desired patty thickness so that it won't crumble while you're making your delicious ground chicken burger. For the patties to be properly cooked for your burger, make sure they take on the right circular and evenly distributed shape.
Step 4: Cooking the Patty
Preheat the pan and add some oil to it. Start by keeping the patties in the pan as per the pan's size. Keep the flame medium so these patties can cook properly and are not overcooked or undercooked. Keep flipping them using a spatula and fry until these patties are golden brown. Use the meat thermometer to check if the patties are properly cooked.
Insert the thermometer's tip in the middle of the patty and check the internal temperature. It is important to keep the temperature at 165℉ for the patties of your delectable ground chicken burgers. Once cooked, keep the patties aside.
Step 5: Preparation and Dressing
Start by heating the burger buns for a few seconds in the pan on a very low flame so that the burger feels fresh and hot. Clean the chopping board, take the sliced vegetables like onions, lettuce, and tomatoes (any other vegetable as per individual preferences can also be used), and put them in a layer in the burger. With the vegetables, add the cooked chicken patty and then again top that patty with the sliced vegetables.
Adding a cheese slice will give your ground chicken burger an extra yummy taste and flavor, but that's optional. Dressing the burger with cherry on top, cheese slices, applying sauces and mayonnaise, and other ingredients is optional. It can be done per individual's choice and health concerns, so its better to opt for the toppings and dressing that a person loves in their burgers.
Step 6: Serve It!!!
Once the preparation and dressing, put the burger on the plate. Voila! You have your super easy, breezy ground chicken burger in no time to eat that will satisfy your taste buds with its aroma, flavors, and dressings!
Following the above steps for the super yummy burger, you can quickly have this ground chicken burger. That will feel like a burst of flavors reaching your soul in busy times! This recipe can also be altered per the individuals' health choices, so let us look at the nutritional facts.
Nutritional Facts
Packed with lean protein, minimal carbs, and no transfats, this recipe of ground chicken burgers is all about the delectable blend of flavors and healthfulness. It has become one of the nutritious choices for health-conscious people, with lots of essential vitamins and minerals, like iron and calcium, supporting well-being. The nutritional facts for this guilt-free delight are:
| | |
| --- | --- |
| Calories | 268 |
| Fat | 5g |
| Carbs | 22g |
| Protein | 33g |
To Summarize
This easy-to-cook ground chicken burger is a treat to us on our busy days because who does not like fresh chicken burgers? Due to the recipe's versatility, a wide range of fresh toppings and sauces can be used, making it a perennially popular filling dish.
Even inexperienced cooks can quickly prepare these delicious burgers due to simple preparation methods. This ground chicken burger is also one of the top choices of health-conscious individuals because of its delightful taste and the healthier ingredients involved.
So, whether you love chicken burgers or like exploring new cooking horizons, this recipe is a winner that embraces the nutrients and flavors never tasted so good! Let us know about your delightful and flavorful culinary experience and whether you are planning to proceed with this recipe in the comments below!