Don't you think while entering 5th grade, students face new challenges both socially and academically? Well, definitely!
No doubt, reading is vital during this phase, but at the same time, helping children grow empathy, critical thinking, and self-confidence is also important.
However, searching for the right books for 5th graders can help them with entertainment and valuable life lessons, including insights into various subjects.
This blog provides you with a list of books best suited for 5th graders that push them gently toward higher-level thinking and deeper emotional understanding.
The Power of Reading in The 5th Grade
The 5th grade marks a vital stage in a child's education. At this point, reading is not just a hobby or a school subject; it is a tool that shapes the development and emotional intelligence of the child.
The right books for 5th graders can open new horizons, concepts, and ideas they might not encounter otherwise.
One of the most important benefits of reading at this age is improving critical thinking skills. Fifth graders transition from comprehensive reading to analysis reading and evaluation.
They are learning to recognize texts, draw connections between different pieces of information, and create their own opinions.
The complex nature of books for 5th graders challenges them to think deeper and analyze, laying the groundwork for their future goals.
Reading also promotes empathy and social awareness. Children learn to understand perspectives through different characters, situations, and cultures different from their own.
They are taught the importance of compassion, empathy, and the shared human experience, all essential for personal growth.
5th graders' books frequently explore themes of friendship, resilience, responsibility, and self-discovery. They become a mirror that reflects real-life scenarios, guiding children through moral difficulties and urging them to make wise decisions.
By selecting the correct books, parents, teachers, and guardians can provide the essential tools to unlock the kid's potential, set them on a path to success, and nurture their minds that question, analyze, empathize, and create.
Top Books for 5th Graders and Why They Matter
The first book in the Harry Potter series introduces the readers to Harry, an orphan who discovers he is a wizard on his 11th birthday.
Join him as he travels to Hogwarts School of Witchcraft and Wizardry, making friends, learning about magic, and uncovering the truth about his parent's deaths. This book also sets the stage for his future adventures.
Why it matters: These books are important for 5th graders because they enhance imagination and creativity while teaching them about friendship, courage, and the power of choice.
His journey from being a neglected child to becoming a hero encourages the children to believe in themselves. The magical world of Hogwarts intrigues young minds as they explore human themes.
Wonder is a must-read among the list of books for 5th graders. This book follows the story of Auggie Pullman, a boy with a facial deformity who is about to enter mainstream school for the first time.
He faces challenges like bullying but discovers the beauty of friendship and acceptance later. The book also promotes empathy, kindness, and the importance of looking beyond one's appearance.
Why it matters: Wonder offers a lesson about compassion, human connection, and self-acceptance. It also encourages the readers to observe people beyond their physical differences and promotes inclusivity and kindness.
Being one of the best books, it sets your little one up to know more about social and emotional learning.
Join Percy Jackson, a 12-year-old boy who discovers he is a demigod, the son of Poseidon, in "Percy Jackson & The Olympians: The Lightning Thief" by Rick Riordan.
Follow his adventures as he is sent to Camp Half-Blood, a training ground for kids like him, and his quest to prevent a war among gods.
Why it matters: This novel is an important part of books for 5th graders because of its exciting plot, relatable characters, and educational value.
The story of Percy and his struggles with ADHD and dyslexia and the heroic journey inspires readers who struggle in their own lives.
It even introduces young readers to Greek mythology and creates interest in history and culture while highlighting the importance of friendship and loyalty.
A historical novel set during World War II that offers an insightful story about courage, friendship, and humanity.
Follow the story of Annemarie Johansen, a 10-year-old kid who helps her Jewish friend Ellen hide from the Nazis in Copenhagen, Denmark.
The young ones witnessed the terrifying realities of war and the bravery required to stand against injustice.
Why it matters: Being one of the most essential 5th grader's books, the story provides an entry point to the complex history.
Explore the story and learn about empathy and understanding as it explores sacrifice, courage, and standing up for what is right, an entry point in history for kids that encourages curiosity and critical thinking.
The story is an unforgettable experience for 5th graders.
Follow the story of 13-year-old Brian Robenson, who becomes stranded in the Canadian wilderness after surviving a plane crash.
Hatchet is a survival story and one of the best picks among books for 5th graders. With only a hatchet as a tool, he must learn essential survival skills against harsh weather, wildlife, and emotions.
Why it matters: This book is more than just an adventure story; it is a story about determination, personal growth, and exploring self-reliance.
This novel provides problem-solving lessons as the kids learn to think creatively and adapt to new situations.
Brian's transformation from an ordinary boy into a survivor illustrates a human's hidden strength.
A heartwarming tale that is one of the best choices among 5th graders books, Bridge to Terabithia follows the journey of Jesse and Leslie, who create an imaginary kingdom called Terabithia.
Join them and their shared adventures as they learn how to cope with loss, themes of friendship, and creativity.
Why it matters: This novel is an invaluable resource for 5th graders that deals with complicated emotions and imagination.
The importance of being true to oneself resonates with young minds. This book promotes creativity and provides a safe space for everyone to confront their fears and insecurities.
A classic tale in 5th graders books, "The Chronicles of Narnia: The Lion, the Witch, and the Wardrobe" by C.S.
Lewis follows the story of 4 siblings who discover Narnia through a wardrobe. They encounter mystical creatures and get caught between good and evil while learning valuable lessons.
Why it matters: This novel is more than just a fantastical adventure; it provides a spiritual and moral lesson to the readers.
The theme of courage, loyalty, and sacrifice keeps you and the young ones engaged till the end. A pivotal point in the books for 5th graders, this novel promotes imagination and encourages critical thinking for a valuable lesson.
This is a humorous and relatable novel that resonates with books for 5th graders.
Follow Peter Hatcher, a fourth grader who feels overshadowed by his younger brother, Fudge. Comedic mishaps and challenges are the main focus for Peter as he navigates the joys of sibling relations.
Why it matters: This book offers 5th graders a comedic look at the family dynamics as they grow up.
It encourages the readers to look at their relationships with their siblings and empathize with others in a similar situation. This book opens a conversation about family, responsibility, and understanding.
A compelling story about Esperanza Ortega, a young girl forced to flee her comfortable life in Mexico for a labor camp in California during the Great Depression.
The story takes the reader on a journey about her struggles, strength, and growth as she adapts to her new life.
Why it matters: An important addition to 5th graders' book, this novel provides historical insights, cultural diversity, and social justice.
Esperanza's journey from comfort to poverty gives a strong context for exploring empathy and family bonds, about human rights and social injustice during the time.
This timeless classic makes an important addition to 5th graders' books. This novel follows Mary Lennox, a lonely and spoiled girl who discovers a hidden and neglected garden.
Follow her transformation as she learns the value of friendship and kindness while bringing the garden back to life.
Why it matters: This story offers a tale of self-discovery and renewal, a lesson in personal growth and the healing power of nature. The garden symbolizes growth, both in nature and the environment.
A book that fits perfectly into a collection of books for 5th graders. The story is set in an almost perfect community without pain, war, or sadness, including individuality and emotions.
Jonas, a 12-year-old, begins to uncover the truth behind society's pretenses while being the Receiver of Memory.
Why it matters: A challenging and insightful novel that battles the complexities of free will, human emotional values, and free will.
Get into discussions about what makes us humans and the importance of memories. Jonas's journey about understanding and acceptance makes the readers question societal norms and values.
A precious children's classic that earned its way among essential books for 5th graders. The story focuses on the friendship between Wilbur, a young pig, and Charlotte, a wise and compassionate spider.
Together with other barn friends, they go on a mission to save Wilbuir from slaughter using Charlotte's web-spinning talents.
Why it matters: This tale is a delightful read about friendship, sacrifice, the circle of life, and loyalty. The vivid characters make deep subjects like compassion and mortality easy for its young audience to understand.
This timeless masterpiece touches hearts and minds, teaching important life lessons to young ones.
It is a whimsical adventure that makes this a superb selection for 5th graders. Follow the story of bored and listless Milo as he travels into a fantasy world through a magical tollbooth.
It is a journey filled with puns, wordplay, and relatable characters, learning important life lessons.
Why it matters: This delightful and clever novel explores the complex themes of curiosity, knowledge, and learning.
The interesting and playful language with innovative world-building invokes critical thinking. The unique blend of entertainment and education makes it a must-read for 5th graders.
It is a timeless novel that inspires people, making it one of the most sought-after pieces for 5th graders.
You are introduced to Anne Shirley, an imaginative and talkative orphan girl sent to live with Marilla and Matthew Cuthbert by mistake in the small town of Avonlea.
Follow her adventures as she brings joy and color to the lives of people around her.
Why it matters: The tale of acceptance and friendship resonates with the kids. Anne's creativity and optimism make her a relatable character, and her adventures give important life lessons about empathy and self-expression.
This is one of the most influential 5th graders' books, encouraging the readers to accept their uniqueness and enjoy the beauty of life.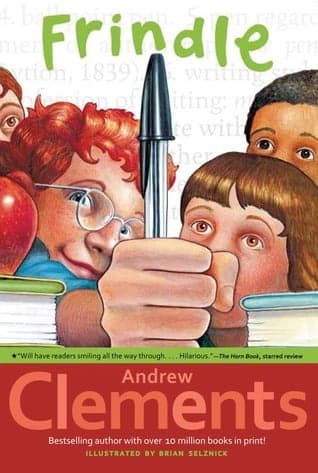 It is a clever and engaging novel that ranks among the top book choices for 5th graders. Follow Nick Allen, a curious and creative boy who invents the word "frindle" as a synonym for a pen.
As the word spread, this sparked a movement across the school and a peculiar reaction from his language teacher.
Why it matters: The novel explores the power of creativity and words. This novel is relevant for 5th graders as it encourages them to challenge and think critically about the world around them.
Frindle offers a fun and thought-provoking experience for kids and discusses the influence even a single person can have by thinking differently.
Conclusion
Selecting the right books for 5th graders can be a special experience that explores new worlds, embraces creativity, and develops essential skills.
The 15 novels mentioned in this blog provide entertainment and introduce the kids to essential life lessons like friendship, curiosity, critical thinking, and empathy.
These 5th graders' books help the kids develop a love for reading. Fifth grade, being a transformative year, layers the groundwork for children and prepares them for the future.
Parents and teachers looking to inspire the 5th graders should consider adding these titles to their reading lists. Stories that range from magical adventures to critical life lessons there is something that every reader can enjoy.
Dive into these books for 5th graders and encourage your child to unlock the magic of reading!