Sirloin roast in a rotisserie is perfect for a luxurious dinner or brunch at home. The juicy, tender, and flavorful sirloin rotisserie roast can turn anti-sirloins into fans in seconds. But to be honest, cooking sirloin beef can be pretty tricky. Even a slight mistake while following instructions can lead to disaster. It will cause a chewy or dry cardboard-like texture.
No one wants cardboard pieces for dinner. Not even when making it at home, to get the tender and delicious sirloin roast cooked in rotisserie, follow our step-by-step guide. We will provide a time-saving, hassle-free method to achieve the best results.
But you must strictly follow the instructions. Otherwise, you will fail to get the desired results. Also, you should be brave and cook your meat on dry heat, keeping the fat side up on the rack. It may sound scary. But you will see the magic once you complete your roast.
Key Essentials for Sirloin Rotisserie Roast Recipe
Tools Required
Here is a list of tools you need for your sirloin rotisserie roast:
Ingredients Required
Below is the list of ingredients that you will need for the roast:
| | |
| --- | --- |
| Ingredients | Quantity |
| | 1-2 Ib |
| | 2 tbsp |
| | 1 tbsp |
| | 1 tbsp |
| | 1 tbsp |
| | 1 tbsp |
| | 1 tbsp |
| | 2 can |
Notes for Ingredients
Salt – Always use Coarse kosher salt for best results.
Roast – Use top sirloin roast for your sirloin rotisserie roast. It is lean, soft, and healthy. But you must follow the cooking instructions properly. Also, dry heat is inevitable for this roast recipe. You can use both manual or automatic rotisserie grills for this dish. Also, you can increase your sirloin amount as per your servings.
Black pepper – Black pepper is recommended for this dish. But if you like white pepper, you can also use it as an alternative.
Herbs – Rosemary, thyme, and sage all add flavor to the roast. But if you fail to collect all, you can use any of these herbs for your dish. Also, you can use Basile as an additional herb if you like. If you have garden-grown herbs, that will also do well.
But if you buy your spices, always choose high-quality spices and herbs. It will enhance the taste of your roast and make it more flavorful. You can also buy a pack of readymade seasoning for your rotisserie roast.
Preparatory Steps for Rotisserie Roast
Preparing your sirloin beef and rotisserie grill is essential before you start. You need to start the prep at least 8 hours or one night before you plan to cook your sirloin roast in a rotisserie. Here are some prep details to follow for the recipe-
Collect All Ingredients: You should start the prep by collecting all the ingredients you need to cook your sirloin beef roast. List down all the ingredients for marinade or seasoning. Check what you have at home and what you need to buy. If you plan to marinade your sirloin, arrange all the ingredients one night before. Sirloin roast needs at least 8 hours of overnight marination in the refrigerator to taste well.
Salt Early: Whether you season or marinade your sirloin roast, you must salt it early. Do not use regular salt. We recommend kosher salt for this recipe. Salt your meat 8 hours before cooking. For best results, salt it overnight in the refrigerator.
Pierce the Meat with a Fork: Piercing the meat with a fork is also a part of your sirloin roast prep. You can use a sharp fork to pierce the meat all over. When you pierce the meat with a fork, it makes way for the salt and marination to get inside the meat. As a result, your meat gets salted or marinaded from the core.
Marinade: You can either marinate or season your sirloin roast. But if you want to marinade it, you must start early. Combine all the ingredients besides the meat in a large sealable bowl. Mix them well to get a thick texture of the paste. Now put your sirloin into it and cover it with the paste from all sides. Then, seal the container and rest it in the refrigerator for 12-24 hours before cooking.
Soak In Root Beer Overnight: If you want to marinate your roast overnight before you cook, you can add the root beer to the marination paste. But if you opt for instant seasoning, soak the meat in root beer after salting overnight.
Steps to Cook Rotisserie Sirloin Roast Recipe
Sirloin Rotisserie Roast tastes delicious when cooked well. Follow the below steps to cook the best perfect rotisserie sirloin roast for your meal-
Step 1: Take the Soaked Sirloin Meat out of the Refrigerator
Your first step to cooking rotisserie sirloin roast is to take root beer-soaked sirloin out of the refrigerator. Keep the meat out of the refrigerator to return to its average temperature. You must ensure the beef is at normal temperature before cooking.
Step 2: Season Your Soaked Sirloin Well
Once the meat reaches the normal temperature, you can start to prepare the seasoning paste. In a bowl, take salt, wine, olive oil, paper, celery seeds, rosemary, thyme, sage, and garlic. Mix them well and cover your sirloin all over your meat.
Step 3: Preheat the Rotisserie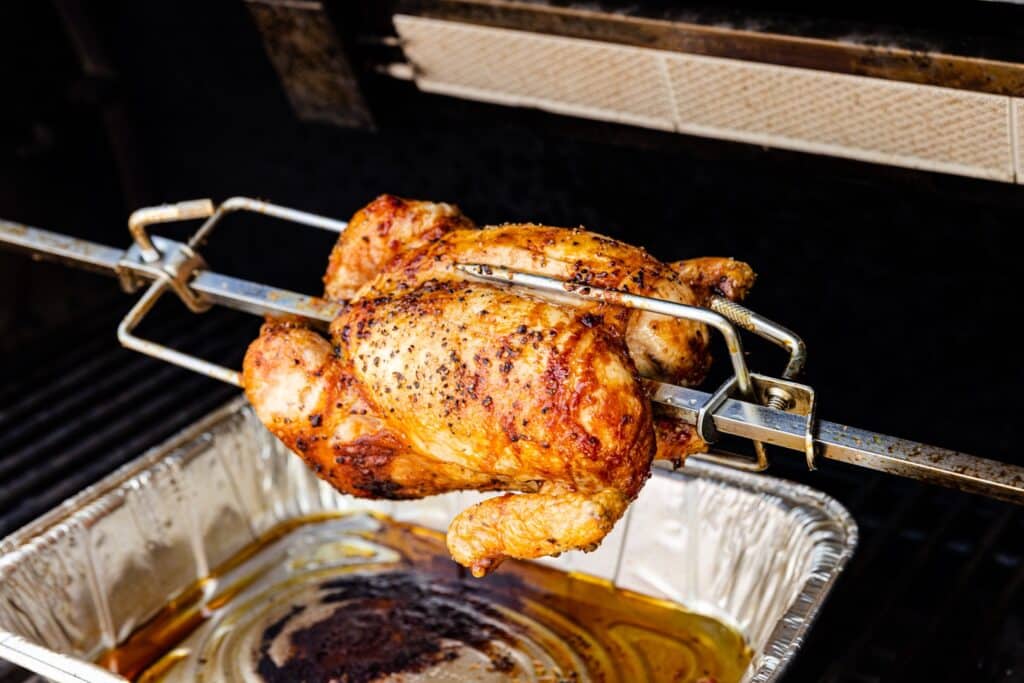 Your next step is to preheat the rotisserie roast to cook your meat. Preheat your grills on high heat for a few minutes. The ideal temperature to preheat rotisserie for roasting beef is 350 F° to 375F°.
Step 4: Place the Sirloin Meat on Rotisserie Spit
Now, place your sirloin meats on the rotisserie spit properly. Place them one by one from the center. It will help the meat to prevent overcooking or undercooking.
Step 5: Place the Roast in the Rotisserie
Then, place the rotisserie spits over the roast. Be careful while placing your spit meats. You can also read the guidebook to place your spit meats properly. And it's ready to cook on the rotisserie roast. Always truss the meat in a tight package on the spit so it does not feel off during cooking.
Step 6: Place a Drip Pan Underneath
Also, remember to place a drip pan underneath the spit in your grill. You can use the drip pan you got with the grill. You can even use any aluminum non-stick pan to prevent the drippings.
Step 7: Utilize Excess Marinade or Seasoning Mixture
Nothing goes to waste. You can utilize the excess marinade mix by boiling it with water and butter. Turn the mixture into a thick gravy. Apply the gravy or paste occasionally on your meat. It will work as a flavor enhancer. Close the lid and check the rotisserie roast is moving freely during cooking.
Step 8: Reduce the Heat After 15 Mins
Turn down the heat after 45 minutes of cooking on the rotisserie. If you are using coal under your rotisserie spit, remove them from the rotisserie.
Step 9: Rotate Occasionally
Cook the meat for some time on low heat. Rotate them occasionally on the grill every time you apply the paste. You will see the upper surface becoming juicer and red-brown.
Step 10: Use a Meat Thermometer to Check if Cooked
Insert a thermometer inside the meat to check the temperature. When the temperature reaches 125 to 145 F°, know it's time to remove them from the spit.
Step 11: Place the Roast on Your Plate
Remove the meat one by one from the spit to your plate. Always use a fork or a tissue to remove the meat from the spit.
Step 12: Slice And Serve
Now, slice your sirloin rotisserie roast into thin and clean pieces. You can also use some rosemary/thyme/sage for garnishing. Serve hot with a main course.
Tips to Reheat Leftover Rotisserie Sirloin Roast
You can save your leftover Sirloin rotisserie roast for later. You can store them in an airtight container. You keep them for 3-4 days by storing them in the refrigerator. But always remember to reheat before you relish your leftover roast. Here are different ways you can reheat your sirloin roast-
Reheat In Skillet: Skillet is best if you have sliced roast sirloin. It is very simple to reheat your roast with a skillet. Place the skillet with your roast over the stovetop. Turn on the heat to low-medium. Cook your sirloin roast until the core gets warm. Add a bit of au jus or gravy over the top before turning the heat off.
Reheat In Oven: Reheating sirloin rotisserie roast in the oven is the easiest way to reheat your beef. Turn on the oven. Cover your roast with aluminum foil. You can also add some gravy or au jus. Set the temperature to 250 F° and cook your sirloin roast for 20 minutes. The cooking time can be less or more than 20 minutes, depending on the size of your roast.
Reheat In a Microwave Oven: This method works best for small portions of roast. Also, it is hassle-free and easy. Put your roast on a microwave-safe plate. Add some au jus or gravy on the top. Place the container inside the microwave and set the temperature to 250 F°. Cook for 1-2 minutes, and it is ready to serve. Remember, the cooking time can differ based on the size of your rotisserie roast.
How to Cook Rotisserie Sirloin Roast So it is Tender?
Cooking tender rotisserie sirloin roast needs patience and attention to the details. Here is a quick guide to getting the perfect tender rotisserie sirloin roast-
Use a dry heat cooking method. The dry heat cooking method is essential for this recipe to keep your sirloin meat tender.
Preheat your rotisserie oven or grill for 20 minutes at 450 F° to 475 F° temperature before placing the sirloin.
After placing your sirloin roast on the grill/oven, cook for 20 minutes at 450 F°. Then, reduce the temperature to 325 F° without removing the cover.
It may be tempting to see the roast but never check early.
Cook your meat for 1.5 to 2 hours until it is cooked well.
Rest the sirloin roast for a while and cut only when the juice is well-distributed. Wrap it with silver foil to keep it fresh for a long time.
Cut against the grain in thin slices of tender rotisserie roast.
Servings of Your Rotisserie Roast
The sirloin rotisserie roast recipe we have shared above is sufficient for 2-4 people. But you can increase or decrease the meat and other ingredients depending on the number of people you cook for.
Also, remember to increase or reduce the quantity of your marinade or seasoning paste as per your roast size. The standard serving measure per person is 225 g/ half pound or 8 oz. But you must always cook extra as everyone will ask for some more.
Nutritional Value
| | |
| --- | --- |
| Nutrients | Value per serving (8) |
| Calories | 282 kcal |
| Carbs | 1 g |
| Protein | 48 g |
| Fat | 7 g |
| Saturated fat | 2 g |
| Sodium | 1294 mg |
| Cholesterol | 124 mg |
| Potassium | 773 mg |
| Calcium | 53 mg |
| Iron | 4.6 mg |
| Vitamin A | 15 IU |
| Vitamin C | 0.3 mg |
To Summarize
The sirloin roast in the rotisserie grill tastes the best when you follow all the instructions correctly. They can be the highlight of your dinner parties or family holiday brunches. You can create a perfect BBQ table with side dishes like Balsamic roasted baby carrots, lemon roasted fingerling potatoes, and Air fryer butternut squash.
Of course, the tender and juicy sirloin rotisserie roast will steal the spotlight if you follow all the instructions. Remember to prepare your meat one night before you cook. Also, use the dry heat method to get the best results. So, surprise your guests with this flavorful and delicious recipe.
Also, share your experiences in the comment section. Let us know what you like to change or add to create your version of the sirloin roast.
Frequently Asked Questions
How Long Does it Take to Roast Sirloin Meat on the Rotisserie?
Cooking Sirloin rotisserie roast takes time and patience. It takes 1.5 to 2 hours to cook sirloin beef on a rotisserie grill. Also, you must salt meat overnight or at least 8 hours before you begin the cooking process.
Should I Marinate or Season the Sirloin Beef for the Roast?
You can use any of these for rotisserie sirloin roast. If you have enough time, you can marinate the beef overnight. But if you do not have much time, you can try instant seasoning before you cook.
Is Trussing Necessary for Sirloin Rotisserie Roast Recipe?
Trussing is not mandatory for your sirloin rotisserie roast. But if you do not want your sirloin roast to fall during cooking, you should truss the roast in a tight package. It makes your cooking hassle-free and easy.