Are you a part of the hustle culture? Is putting in constant effort becoming exhausting? If the answer is a resounding yes, then you are in the right place.
Nowadays, 'motivation' is becoming more than just a word to look up in the English dictionary. It has become a feeling that acts as a parameter of the success or failure of an individual's work.
Too much to understand? Let us break it up for you. The path of motivation usually leaves us lonely and alone. It is very rare to find a compatible partner, family members, and friends to hype us up and motivate us in just the right way.
This is why podcasts and audiobooks have become a huge hit among all age groups throughout the American continent. Spotify is an audio platform that helps individuals go through their self-motivation journey.
To help you on the constructive journey, we have curated a list of 18 such podcasts that are best to fuel your drive to evolve in your life ahead.
Host: Brene Brown
Quite literally to the podcast name, Brene Brown brings real experiences into the podcast through her guests, ways that help in self-improvement. The podcast helps its listeners to deal with vulnerability and a sense of empathy.
Empathy towards oneself. Unlocking Us is an exceptional podcast that helps listeners walk through their vulnerabilities and shame and gives them the courage to empower themselves.
It is common behavior for us to drown in self-pity and doubt, making it too hard to move on and forgive ourselves. The podcast acts as a light of hope for people in need.
Moreover, the million followers that the motivational podcast channel has gained proves its success and connects with people.
Host: Jay Shetty
Jay Shetty is quite a popular speaker and podcast host with a huge fan following all across social media platforms. The podcast On Purpose helps the listeners to understand human behavior, interpret their actions, and gain a perspective to lead a fulfilling life.
The podcast deals with diverse topics, providing a wholesome experience to its listeners. It offers guidance on mental health and provides relationship and work-related advice.
The podcast provides valuable learning from the experiences of some of the famous, influential people. We hear some singular perspectives on diverse subjects from the host himself.
Further, we get to understand how reasoning and introspection can help us handle our relationships better, especially romantic relationships.
Host: Sahara Rose
Taking the spiritual road, Sahara Rose revises practices used for thousands of years to strengthen and empower humans. Popular around the eastern countries, the practice of Ayurveda, astrology, chakras, and many more.
The podcast helps listeners to relax and focus deep within themselves. One of the ways can be meditation, which is a powerful way to find clarity and gain perspective.
Podcasts help in gaining insight into difficult situations and discover the purpose of life to some extent. Interestingly, some podcast topics also circulate dharma and gain our highest self!
Host: Henry G Lawrence
This beautiful podcast reflects upon the importance of positivity and helps its listener unlock their positive self. Quite interestingly, the host talks about the vibrations that each human being is made of. Vibrations that help us become our higher or worse selves.
Tapping into that and reaching positive abundance is the key motto of the podcast. The higher vibrations help in getting rid of harmful feelings like insecurity, anxiety, depression, and many more.
Simultaneously, it sheds light on other benefits of increasing our vibrations, like becoming a wealth magnet or achieving an abundant life and practices that can help fulfill desires.
Host: Mel Robbins
Another famous podcaster has helped motivate millions through her channel and social media account. Mel Robbins conveys a strong message that most do not wish to accept and endure.
Change. The host talks about an opportunity to change one's personality and perspective that can help one lead a better life. Also, this motivational podcast helps its listeners to endure change and experience different walks of life.
It is a wholesome package about business, personality, soft skills, research, etc. The varied topics covered in the podcast
Host: Max Lugavere
Max Lugavere, a filmmaker, journalist, and author, has now come to us with an amazing podcast channel on Spotify that talks about health and wellness. Earlier, he published a bestselling novel about how food impacts brain health.
A dedicated channel to health and wellness that has now become one of the top podcasts in the US. The topics chosen are quite intricate and dedicated.
Through this podcast, one can learn about how nutrients and fats affect our body, how one can build strong mental strength, effective exercises, gym workouts, and many more—a go-to motivational podcast channel to lead a healthy lifestyle.
Host: Tim Ferriss
The Tim Ferriss Show is one of the best motivational podcasts on Spotify. The host brings in a variety of eminent personalities to talk about their lifestyle, hardships, and choices they made to become successful.
It is popularly claimed that experience brings wisdom and great learning. And the host has understood this well. It helps motivate and spread great knowledge to all people through the experiences of great personalities.
The show gives a wholesome experience to its listeners and has been called 'The Oprah of Voices by The Observer.
Host: Gretchen Rubin
Gretchen Rubin hosts the award-winning podcast along with her crafty younger sister, Elizabeth Craft. The Hollywood show-runner often ends up being a Guinea pig to her sister's creative ideas and experiments, all done in the pursuit of spreading happiness.
This lovely duo discusses many topics, including happiness, tips, and self-knowledge advice. It is a captivating motivational podcast that motivates its listeners to have fun, among other important life skills.
This dynamic duo covers everything from the excitement of doing something for the first time to dealing with regrets.
Rubin, apart from being the host of a successful podcast, is the author of a bestselling novel 'The Happiness Project."
Host: Gary Vaynerchuk
He is a remarkable and active entrepreneur who made his way through life by expanding his father's business immensely initially. Then, he decided to put in authentic content over the Internet and slowly started building multiple businesses and a legacy of his own.
Gary Vaynerchuk, apart from being a founder and co-founder, is an effective keynote speaker, vlogger, author, and an interesting podcast host. The man brings a fresh episode to his podcast channel every day.
This is one of the best motivational podcasts about trending business tactics that help listeners grow and earn good money. He also entertains questions from the public and helps them in some way or the other.
Host: Jenna Kutcher
Jenna Kutcher is a numbers-loving, fun personality who brings in a new podcasting style. Her podcasts do not involve the traditional hearing session that we see everywhere. She conducts her podcast in a unique workshop style that airs live.
Her podcasts are related to business and marketing. But don't be fooled. She does not just talk about number crunching and meeting sales. It gets much deeper than that.
The host motivates its listeners to get up and get going. We get to hear different guests talking about diverse topics like psychology, marketing tactics, content creation, and personal insights from her real-life experiences.
The Gold Digger is a featured motivational podcast that motivates listeners to earn money and grow.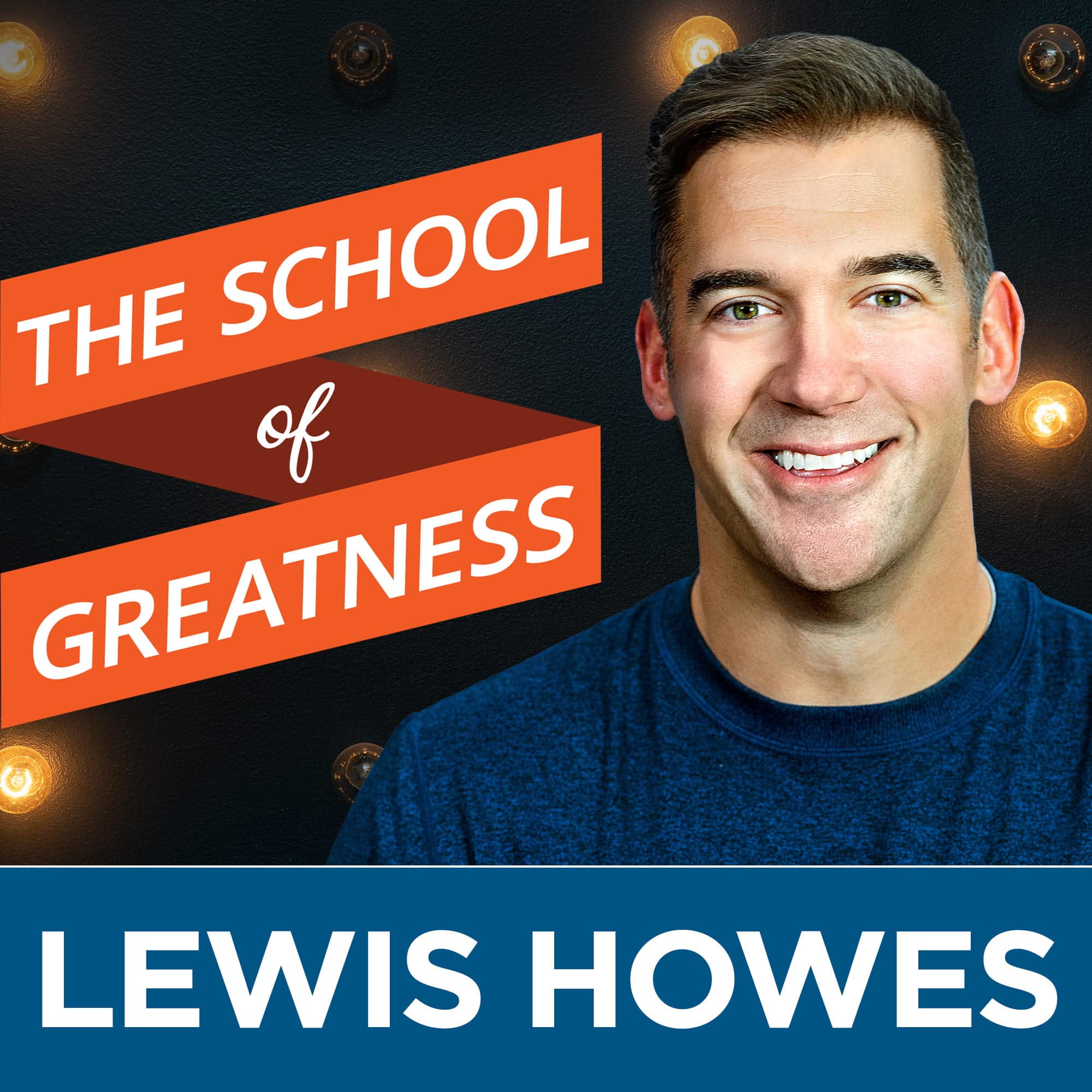 Host: Lewis Howes
The School of Greatness, started in the year 2013, has completed a decade as a successful podcast channel, having more than 150 million downloads. The show talks about diverse topics that help its listeners gain insights from professionals over anything and everything.
The motto of this motivational podcast is to inspire people through the lives of world-renowned leader, their hardships, successes, and personal experiences.
Some topics discussed are literature, business, personal development, sports, science, and many more. Being an athlete himself, the host takes on one-on-one sessions, imparting valuable lessons.
Host: Oprah Winfrey
Yes, you heard that right. 'Oprah Winfrey' not only hosts a television show but has a podcast channel as well. A strongly opinionated woman, Oprah has inspired many for decades.
Looking up to an empowered woman who's out and about in the world is very inspiring and motivating to young adults, mostly women.
Knowing the esteemed personalities Oprah has access to, we have to learn a lot from the experiences and hardships that they have gone through. It is a highly motivational podcast that helps listeners overcome their hardships and try to lead a better life.
The podcast discovers the deeper meaning of the world and how to get through it. The eminent panelists involve world leaders and business leaders who can be highly influential to a listener's thought process.
Host: Michael Sandler
After going through numerous life-threatening catastrophes, Micheal Sandler worked hard to build his life again. During the time of recovery, the host took solace in multiple podcasts, audiobooks, and several DVDs.
An accessible way that helped him forget about his pain and indulge in different settings. The recovery period made the host realize the effectiveness and importance of podcasts, further realizing to explore the path more.
The Inspire Nation show offers guidance stories, inspirational quotes, and advice that can help its listeners radiate positive energy.
This motivational podcast inspires people to care for their health and make their lives worthwhile.
Host: Sadie Robertson Huff
The main focus of the podcast is religion and spirituality. The host brings in an interesting set of guests like Hollywood actors, musicians, athletes, and many more.
Sadie helps her listener access some interesting and inspiring stories that motivate her listeners. The host talks about faith and God, invoking hope in people and leading them toward spirituality.
Furthermore, some of the episodes are directed towards personal development. Some of them are how to find passion, let go of fear, don't be scared of the things that sound impossible, and many more.
After all the sessions that aired, the host promised to expect the expression, "Woah, that's a good podcast," particularly why the channel was named so.
Host: Motiversity
As the name suggests, the channel brings in motivational podcasts that we believe help anyone who is looking for inspiration and motivation to get through the journey of life.
Motivation is one of the greatest life skills rather than soft skills that we need to live life. It is the motivation that fires up our passion for choosing a goal.
The podcast revolves around life, purpose, relationships, mental health, focus, studying, etc. The strong emphasis on dealing with emotions and focus is the need of the hour in this age.
The influential list of guests helps the listeners learn from their mentors and motivate themselves.
Host: Glennon Doyle
"We can do hard things" is a simple phrase from the host's book "Untamed' that soon became a hit among millions during the COVID-19 pandemic.
The host, along with her wife and sister, set out to help the people through a hard maze that's LIFE and invoke reassurance amongst the listeners that we can go through it.
The hosts delve into some intricate and scary topics that each one goes through. The common insecurities and questions we all encounter are like what if I will ever be truly loved? What is my goal in life? And many more.
Hearing advice from the experiences of three insightful women is the perfect motivational podcast channel that people need. It also acts as an inspiration for young female listeners to get through certain biases in the world.
Host: Rob Dial & Kast Media
For today's topic, the Mindset Mentor channel is one of the best picks for a motivational podcast. Interestingly, the host adds scientific ways to the topics discussed to help the listeners understand the connection between the brain and body.
The emphasis on how the brain and body work together can be amazing. Rod Dial brings in panelists of high caliber to inspire the listeners through their life experiences.
The hosts blend neurobiology, cognitive behavioral therapy, psychology, and early childhood development to help the listeners understand themselves.
This exercise can help us make achievable goals for ourselves and succeed.
Host: Sarah May
One of the things the host is passionate about is solving problems. The host likes to call her podcast channel a self-help destination that can help the listeners immensely.
Being through certain life-changing events herself motivated the host to help people deal with their problems and lead a better life.
The podcast channel involves different practical tools to help the listeners. Most importantly, the podcast helps the listener to overcome a variety of emotional challenges that they face. Emotions are one of the distinct features of humans that make us distinct, vulnerable, and strong.
The host realizes the importance of having healthy emotions and dealing with emotional hardships. It is a beautiful motivational podcast that can be a roller-coaster ride at first but a beautiful journey over time.
Conclusion
In today's age, podcasts are proven to be an influential way to help people, mostly young adults, to live a better life.
It can be a bit similar to therapy, the difference being that here, the topic is similar to our problem, and we hear the answer via the podcast instead of a therapist. So, in a way, it saves the listener from exposing their innermost problems in the open and simply getting a reasonable explanation for the problem.
Have you ever tried listening to podcasts? Did it help you find any clarity and solve your problems? If yes, then comment down your experiences and insights.
It can be an enriching opportunity for all to learn from it and taste the beautiful podcast experience.