Everybody has different stories about camping that has different fun, different purpose, and different locations, be it in the books or word of mouth.
But it is always thrilling and exciting to listen to those camping stories as they are filled with fun and dramatic experiences.
As a kid or an adult, reading story books for these kinds of adventures has always left us with many emotions like happiness, sadness, fear, and whatnot! But, trust me, there is no better way to know the camping experiences than storybooks, and we all have our favorites.
So, here are 20 of our favorite storybooks with many learning and adventuring experiences.
Best Story Books About Camping that Are Full of Adventures
Each book mentioned below has a different story that helps us with some or the other parts of our memories of camping.
Here are 20 of our favorite storybooks that have thrilling camping stories that will encourage you to plan your camping trip super soon:
Curious George Goes Camping by H. A. Rey and Margret Rey is a wonderful storybook about the playful monkey, George, who goes on a camping trip with the Man who wears a yellow Hat.
He gets into hilarious misadventures due to his endless curiosity, including fishing disasters and squirrel tragedy.
Despite his challenges, his determination and creativity save the day, showing important lessons about resilience and problem-solving.
The readers are transported on an educational journey, helping them to understand the vitality of curiosity, learning from mistakes made, and the joyous bond between George and his Yellow-hatted friend.
A Camping Spree with Mr. Magee is a fun storybook by Chris Van Dusen. The story is about Mr. MaGee and his dog, Dee, who go on a camping trip full of adventures.
Their peaceful camping trip goes well until they meet an unexpected guest on their way: a curious bear. No sooner do they decide to trick the bear out of their way than chaos starts that results in a hilarious misadventure and daring rescue.
Through the good bond of Mr. Magee and Dee, they both develop a memorable bond with Bear. The camping stories like these are filled with comical twists, celebrating the unexpected bond of friendship with the beauty of nature.
Oliver and Hope's Adventures under the Stars by Meg Cadts is a book for stories about the camping of Oliver and Hope with their friends. Oliver and Hope, along with their friends Millie and Chewy, go on their first camping trips.
They all fear the shadows, but as soon they start the campfire, they forget every fear troubling them. Oliver, Hope, Millie, and Chewy play silly games that keep them laughing all night.
Readers learn that darkness in the wilderness is not about getting scared but making amazing discoveries. Spending the night under the stars can be much more fun than fear.
Pete, the cat, goes camping by James Dean is a camping trip family. The parents set up the tent on the trip, and Pete goes fishing with Dad. After getting the fish, Pete's mother lights a fire and cooks the fish.
Meanwhile, having their meals, Bob tells Pete about a giant that has a big foot, but his father tells him that there's no such thing. Pete then puts a s'more on a table and goes to sleep.
Waking up in the morning, Pete notices the s'more is no longer on the table, and Bigfoot has eaten it. Their camping stories help readers to learn that not everything in the woods can harm; instead, they can be friendly as well if you act right.
Flashlight by Lizi Boyd is a fascinating wordless picture book that explores the magical world of a young child's night adventure of camping.
The child takes the flashlight and goes into the forest to explore. He keeps walking to explore the outdoors with the beam of the flashlight, and the child suddenly trips to fall onto the ground.
A raccoon picks up the flashlight, which gets passed to different animals. The child keeps following the animals and the flashlight beam and reaches the camping tent.
In such stories, the readers get to learn that exploration in the outdoors can treat you with many beautiful and cherishing memories.
Fatima's Great Outdoors by Ambreen Tariq is stories about a family camping after being shifted to a new place. Fatima, along with her family, goes on a camping adventure trip as she wants to get away for some time from her school's hectic days.
Fatima finds a new sense of confidence at the campground by learning how to build a campfire, put up a tent for the first time, and even fight a giant eight-legged monster spider.
Readers are going to love this family adventure, and it pushes them to explore nature in different ways and plan a camping trip soon.
This book about camping- Scaredy Squirrel Goes Camping by Melanie Watt, is a wonderful book. Scaredy, the squirrel loves the idea of camping but doesn't wish to go out. He wishes to stay in his tree home and experience nature on his television, relaxing on the couch.
But the scaredy squirrel soon realizes that he will need to plug the TV's cord into another tree as he has no connection in his place. He then takes all the things needed along with a really big cord to connect his TV to the other tree.
Later, he walks outdoors with his complete survival kit, but suddenly, a penguin appears. Scaredy panics and plays dead so that nothing can harm him.
He then wakes and suddenly sees a wonderful sunset. Readers in this book of stories about camping get to learn Wilderness is the stunning beauty of nature with so much to offer.
Nana the Great Go Camping is a spirited book by Rebecca Elliot. The kids have their summer vacations, and they love it even more with their Nana (Granny). Nana loves hiking and asks kids to join them.
Kids join Nana for camping on a hill. In between, the kids get tired and ask Nana to stop and take them back to the house. But Nana asks the kids to take a sip of water and eat a snack to have the strength to continue the hike.
They all continue to climb, and the kids see the amazing view. Nana tells them they would have missed such a view if they hadn't joined her on the hike.
Camping stories like these encourage the readers to leave their comfort zone and hike to places with only natural beauty because seeing the natural beauty does calm our souls.
Maisy Goes Camping by Lucy Cousins is a camping storybook about 5 friends. Maisy one day decided to go camping, and all her friends came along to join her.
Roaming around in nature, they all found the perfect place to make a tent. But setting up the tent was difficult for Maisyy and her friends. But they all worked together. The tent continuously fell, but they kept trying until the camp finally stood straight.
Maisy and her friends then burnt a campfire and enjoyed. After that, one by one, they decided to go inside the camp to sleep. As Eddie enters, the camp becomes congested, and all the others are kicked out.
These four then rested under the stars and had a great night. Readers learn how important it is to enjoy nature and stars as they are our friends, and we should also enjoy them.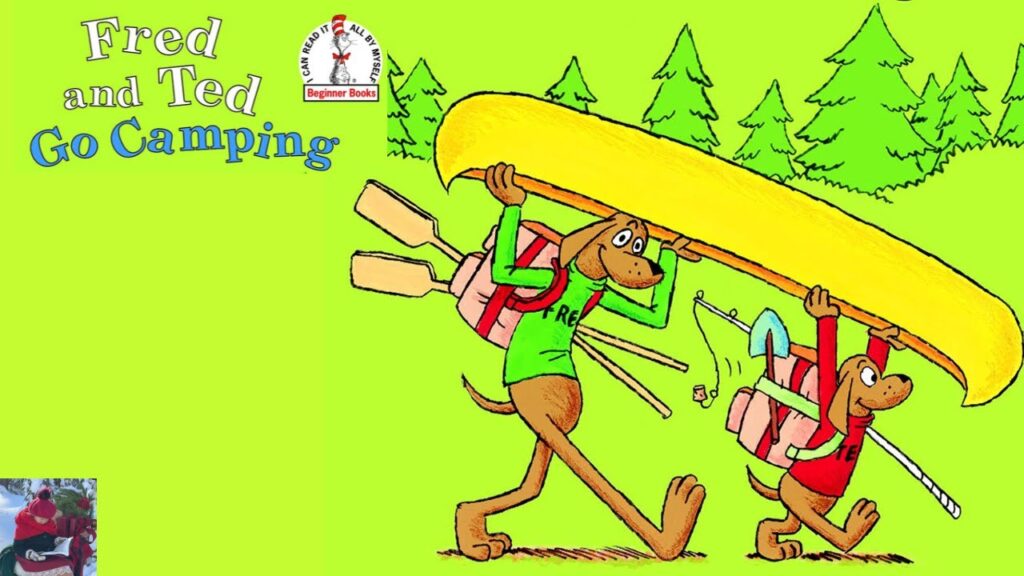 Fred and Ted Go Camping by Peter Anthony Eastman covers stories about the camping of two friends. These two friends are opposite in personality. Ted prefers small things, whereas Fred, who is huge, prefers big things.
Together, they decide to go camping, but along the journey, they face many challenges and surprises. For instance, Ted brings relatively little gear, while Fred brings a lot. Ted pitches a small tent as Fred pitches a large one. Ted catches a little fish, while Fred catches a large one.
They do learn, though, that their differences can be amusing and helpful. For instance, Ted's tiny torch enables them to see a shooting star, while Fred's large torch aids them in navigating in the dark.
Readers learn from this story that respecting the differences in friendship makes it perfect.
The Lost Lake by Allen Say is stories about the camping of a father and son. Luke and his father live in a city apartment with a very busy life. One day, Luke goes through the old photographs and finds a picture of his father on a camping trip to a lake.
Luke asks his father about the camping trip to the lake, and his father tells him that it has been long since he's been there as he has lost the way to it. Luke convinces his father to go along with him on a camping trip.
On a camping trip, they find many lakes but search for another lake for a peaceful vibe. They follow Luke's grandfather's map with the lake in the old photograph.
Luke's father finds the lake that was there in the photograph and becomes happy about it; he then names that lake Luke's Lake. The Readers get to learn the importance of father and son bonding and exploring nature.
The Camping Trip by Jennifer K. Mann is a book that covers stories about the camping of a girl named Ernestine, a young girl who goes on her first camping trip with her aunt and cousin. Ernestine is eager and ready for the adventure, but she quickly discovers that camping is not as simple or cozy as anticipated.
She encounters difficulties like pitching a tent, swimming in a lake filled with fish, hiking with a bulky rucksack, sleeping in a sleeping bag, and experiencing homesickness.
She also learns about the benefits of camping, such as creating s'mores, viewing the stars, and having fun with her family, with the assistance of her aunt and cousin.
The readers learn the importance of trying new things, overcoming fears, and appreciating nature, which ultimately leaves us with a deep sense of connection to the outdoors.
Bailey Goes Camping by Kevin Henkes is a book about a young bunny. Bailey feels left out as his elder sibling goes camping with bunny scouts for adventure and fun. He wants to join them for the camping trip but can't because he's too little to go on such trips.
His parents try to cheer him up so he doesn't feel alone by building a tent from the blanket, turning the tub into a fishing pond, and lighting a campfire.
Bailey enjoys all of it, and then his parents tell him some good stories and sing songs to make him go to sleep. The little bunny soon realizes that camping at home can be really fun.
The readers with such stories about camping get to learn that happiness can be found in little things as well as that Parents can do everything in their power to keep their children happy
Monster and Mouse Go Camping by Deborah Underwood covers camping stories with two friends: The Monster and the Mouse. Mouse invites Monster to go camping with him, but Monster fears the dark and wild animals.
Monster agrees to go camping only because of the food. But upon reaching, the monster gets so hungry that it eats everything, even the tent, sleeping bag, and the lantern.
Seeing this, the mouse gets disappointed, but he still makes the best out of the situation to make the monster realize the beauty of nature.
They both then decide to go on fishing, roast marshmallows, and gaze at the stars. Monster realizes that camping is not at all bad and goes sleeping under the star with the mouse.
In the morning, when Mouse wakes up, he sees that the monster has been caught by the ranger, who mistakes him for a bear.
Mouse then frees the monster, and then both run to their cars, enjoying back to their homes. The readers learn how to value friendship despite all odds and enjoy nature at its best.
Biscuit Goes Camping by Alyssa Satin Capucilli is a book about dog love that covers stories about the camping of a puppy named Biscuit and a girl. Biscuit and the girl are super excited to go camping in their backyard.
They have everything needed, like a tent, flashlight, blanket, and snack to enjoy their camping trip. They explore the night, see fireflies and frogs, and do star gazing.
But suddenly, there's a thunderstorm that scares the biscuit and the girl. They both rush back to the house before it starts raining. Biscuit finds a cozy satisfaction when he lays down on his bed.
The girl then comes and sleeps along the biscuit. The readers of this story learn to celebrate the bond between a dog and its owner, as well as the wonder of the outdoors.
Ladybug Girl and Bingo by Jacky Davis is an exciting book that covers stories about the camping of a girl and her pet. Lulu, a girl who loves to dress up as Ladybug, goes on a camping adventure trip with her dog, Bingo, and her family.
They all go on their first camping trip, and Lulu is extremely excited to explore the forest and the natural outdoors with her dog, Bingo. However, Lulu's parents ask Lulu to be careful and keep Bingo on a leash as they might run away and get lost.
She also learns to be responsible and take care of her pet alone. Soon after entering her ladybug imagination, bingo slips out of Lulu's hand, and she gets worried. She takes it courageously and puts all her imagination and efforts into finding Bingo.
She finally finds him and brings him to the campsite. Readers get to learn the importance of taking responsibility and taking care of our pets very carefully.
Into the Outdoors by Susan Gal is stories about camping with a family. The family of four travels to a mountain, and as they climb the mountain, the family encounters a lot of animals and plants.
They learn about nature a lot about the climatic condition of the mountain as well. The family, with the zeal of exploration on their way, keeps focus on everything they encounter. After reaching, the family enjoys the campsite with nature.
There's an environmental learning that readers get to learn from this story that tells them not to leave anything at the campsite and keep it clean when leaving by taking all the trash away.
The fun sights enjoyed by the family give readers unparalleled happiness.
Froggy Goes to Camp by Jonathan London is a funny book that involves stories about camping with a very clumsy frog named Froggy. Froggy goes on a summer camp and is excited about his first camping trip.
He tries activities like archery, kayaking, and swimming for the first time, but he always ends up in some mishap and trouble every time for all the activities that he does.
When he goes swimming class, he manages to lose his trunk, and when he goes kayaking, he overturns his kayak, but Froggy somehow comes out of it all.
He makes new friends as a lovable and bumbling froggy who also lets his friends laugh. The readers learn the importance of enjoying everything even when it gets you into trouble, but what matters is coming out of trouble and just laughing it off for fun.
Tacky Goes to Camp by Helen Lester is a book that involves stories about the camping of Tacky, who is a penguin and likes to do things differently from his friends as he's good at following things and rules.
He enjoys playing games like rock hopping, line dancing, and capturing the ice cube with his friends while they attend summer camp in Nice Icy Land. Tacky tells a tale about a large, frightening bear with long hair who enjoys eating penguins.
His buddies ignore his tale as meaningless and return to their tents. But they had no idea that Tacky's story would be true. At their campsite, a real bear appears in search of food.
While the other penguins are afraid and want to flee, Tacky maintains his balance and uses bravery to frighten the bear away.
He rescues the day and shows that being different can also be useful. Readers get to learn the worth of being courageous and brave. It also teaches everybody to stay authentic.
First Star by Will Hillenbrand is a book that covers stories about the camping of two best friends, Bear and Mole, who go on their first camping trip. They are excited to see the stars and explore that nature, but Mole is afraid of the dark.
Seeing all this, the bear tries to comfort Mole by telling him a legend of how the first star was created by the first bear family, who used white clay to make the moon and threw pieces of it into the sky.
Mole carefully listens to the story with curiosity, and later, The first star guides them back to their home. Mole forgets his fears and enjoys the trip after that. Readers learn the importance of comforting each other in friendship and making others feel valued.
These are 20 of our favorite books of stories about camping as each book reflects the importance of being courageous to take such trips, and these trips can turn out to be the best lifetime memories that can be cherished forever.
Conclusion
The abovementioned 20 of our favorite stories about camping trips will surely transport you to the real-time emotion of making a camping trip. The pretty flowers, streams, trails, and the stars above in the sky make us feel so relaxed and help us take home many wonderful memories we cherish forever.
Be it with family or friends, camping trips add an element of happiness to our regular routines. So quickly plan up your camping trip and take a day off from the worldly stuff for yourself.
Let us know in the comments below about your favorite books among all of them!