Are you conscious of your health? Do you prefer eating salads over high-calorie meals? If yes, then we have an amazing suggestion for you.
Today, we will discuss the delicious white balsamic vinaigrette, a low-sodium salad dressing. The star element in the white balsamic vinaigrette is the white balsamic vinegar.
The vinegar is prepared using grapes that have originated from Italy. The white balsamic vinegar has a mild taste and a less sweet taste.
The best part about vinegar, which allows us to consume it in considerate amounts for a prolonged period, is the acid it contains.
Unlike other vinegar, this vinegar does not contain acetic acid. It contains tartaric acid along with other acids, which are commonly found in grapes.
So, let us bring you a simple yet delicious white balsamic vinegar dressing recipe for a tasty salad and much essential healthy you!
Why Low Sodium Salad Dressing?
The Covid-19 pandemic brought a lot of hysteria and health concerns worldwide, especially in Western countries. The rising death tolls acted as a mirror, forcing us to introspect on our lifestyle choices.
It is now becoming important to understand the adverse effects that an unhealthy lifestyle can bring to us. However, two of the key reasons for such severe impacts were found to be:
A higher number of old-age population
Existence of underlying diseases like diabetes, heart disease, and other chronic diseases.
We saw a rise in salad consumption during and after the pandemic in America, around 34% to meet their daily fruits and vegetables consumption. Eating fresh fruits and vegetables has more nutrients than frozen ones.
A low-sodium salad dressing is the best way to bring the salad flavor with less salt and a rich taste. So, let's discuss a quick low-sodium salad dressing recipe.
The Healthy White Balsamic Vinaigrette
The white balsamic vinaigrette contains white balsamic vinegar, the best alternative for a low-sodium salad dressing.
White balsamic vinegar is made from unfermented grape juice. White balsamic vinegar is a mild and less sweet version of dark-colored balsamic vinegar.
The white balsamic vinegar is made up of white Trebbiano grapes. This vinegar helps retain the colorful platter of the salad without any discoloration or tints.
It is a perfect option to be used as a salad dressing and get a wholesome experience.
The Requirement to Experience the Awesomeness
After knowing the benefits and importance of white balsamic vinegar, we should start with its easy recipe. Do not confuse white balsamic vinegar with white balsamic vinaigrette as a salad dressing.
A few other ingredients are mixed with the white balsamic vinegar to create a delicious salad dressing for healthy meals. Let us dive into the details and prepare our low-sodium salad dressing.
Essential Ingredients
Tools Required for the Recipe
How to Make a White Balsamic Vinaigrette
And now, we will finally talk about the much-awaited low-sodium white balsamic vinaigrette salad dressing recipe. Don't forget to pen down or save this easy low-sodium salad dressing recipe that not only works as a nutritional and tasty salad dressing but also has health benefits.
It is best always to pick out the required ingredients and tools for the recipe and keep it together. This makes the cooking process very easy and hassle-free.
It is not always possible to find all the required ingredients as asked for. Don't worry; we won't pressure you for the same. Try to find all the possible ingredients.
If unavailable, you can skip the ingredients from the recipe. Try the recipe and tell us about your experience in the comment section below.
Step 1: Find the Suitable Raw Materials
Do not replace the ingredients with just about anything. Balsamic vinegar can be used as an alternative to white balsamic vinegar with gradual differences in color and taste of the dressing.
No change in oil is advised. Considering the potent nutritional values and flavoring, it is common to be tempted to use fresh Italian herbs instead of dried ones.
Unfortunately, since we are to store the salad dressing for around two weeks, it is best to use dried herbs.
Dried herbs are much stronger in flavor and longer lasting than fresh ones. They will work well with emulsifying the salad dressing into a flavorful one.
Sugar is optional, as mentioned above. Since we have sorted the ingredient alternatives, we can begin mixing.
Step 2: Mixing and Whisking
In a big bowl, pour the extra virgin olive oil, and add the dried herbs, garlic powder, dried mustard, and lemon juice. Once the ingredients are added, whisk the mixture for some time. This will help the ingredients to mix with oil and open their flavors.
Once the whisking is complete, add the star ingredient of this low-sodium salad dressing – the white balsamic vinegar. Give the mixture a good whisk once the vinegar is poured into the mixing bowl.
The low-sodium white balsamic vinaigrette salad dressing is ready! This is a perfect way to take a break from food items containing high levels of sodium or salts.
Step 3: Keep it Safe
Storage is important to ensure the vinaigrette has a long shelf life. After the low-sodium salad dressing is prepared, we have to allow the dressing to sit down and emulsify so that the ingredients can start working and do their magic.
After the mixing and whisking is complete, allow the mixture to sit down for a short while. After that, take an airtight jar or a mason jar and pour the mixture into it. Then, keep the jar in the refrigerator.
Make sure to give the salad dressing a stir every time before use. If the dressing gets frozen, remove it from the refrigerator and let it come to room temperature. And then pour it into the salad.
Step 4: Serve it Right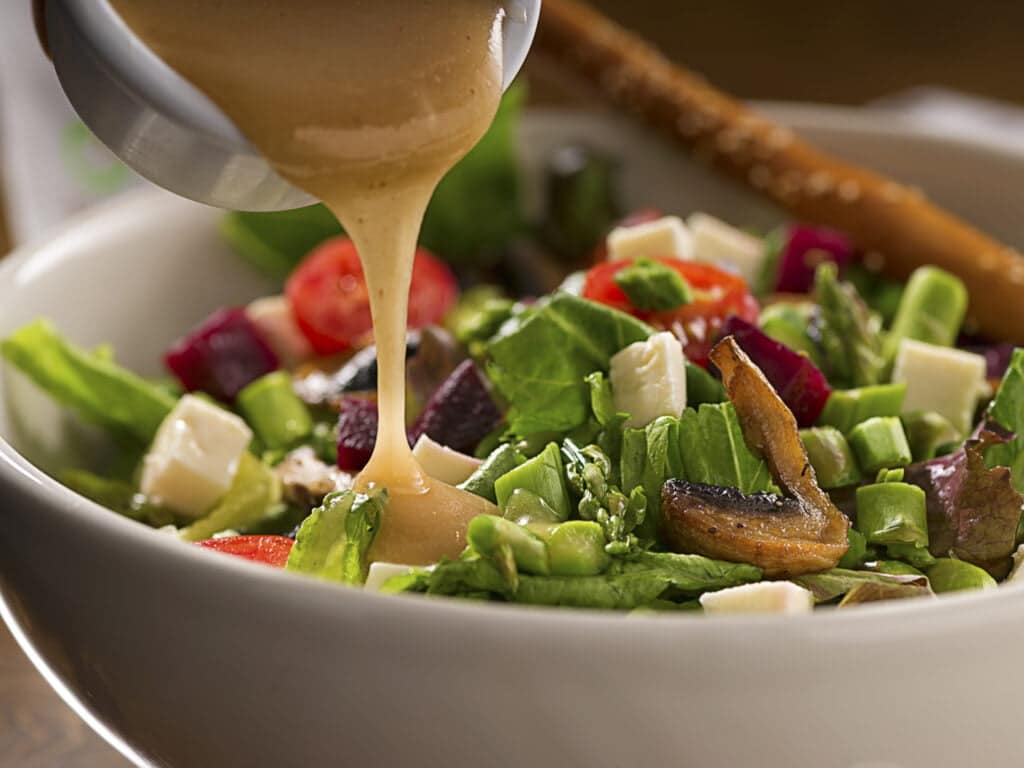 There is no defined serving pattern for a low-sodium salad dressing. Just remove the vinaigrette jar from the refrigerator and let it come to room temperature.
Cut the fresh vegetables and fruits required for the salad. Put them in a bowl and top it up with the delicious and nutritious white balsamic vinaigrette salad dressing. Mix the whole thing up properly. And now, you can enjoy your salad.
You may keep some salad dressing in mini glass jugs as a backup on the dining table.
Step 6: Don't Worry About the Calories, and Enjoy
After a thorough calculation of calories present in all the ingredients, especially the extra virgin olive oil, we have a conclusion. One teaspoon of the low-sodium white balsamic vinaigrette contains 32 calories.
This calorie average is much better than a typical American meal. Usually, Americans prefer indulging in a delicious piece of meat as their dinner.
Whatever the type of meat, the total calories a single plate constitutes is 10 times higher than a salad bowl. A bowl of salad that is enriched with nutrition and taste can be a much healthier option that you should opt for.
A Blend of Additional Magical Ingredients
We have talked a lot about the benefits of white balsamic vinegar. We are confident and believe we have successfully motivated you all towards a healthier, low-sodium salad dressing. Do let us know about your thoughts in the comment section below!
Now, we will talk about the other ingredients with potent nutritional values.
1. Lemon Juice
As we all know, lemon is the best source of Vitamin C. The freshly squeezed lemon juice makes the recipe increase its nutritional value. Vitamin C, as we all know, is a very important vitamin for our body. It helps in the proper functioning of the immune system, absorption of iron, leads to the formation of collagen, etc.
2. Garlic Powder
Garlic powder helps in boosting the immune system and fight dangerous infections. Also, garlic has been proven to lower cholesterol levels.
Another specialty of garlic powder is that it helps keep the body warm. It is a perfect ingredient to help us deal with American winters.
It is a potent ingredient that can help you build immunity and become less prone to diseases.
3. Dried Mustard
This ingredient is filled with rich antioxidants and vitamins. Dried mustard significantly reduces the risk of cancer when consumed in regulated amounts. It is a rich source of selenium and potassium as well.
Still confused about whether to try this recipe or not? We don't think so! Take out your chef's hat and get started with the recipe. Try not to alter the ingredients.
Conclusion
And we finally came to an end with the recipe. This low-sodium salad dressing is the most delicious way to enjoy salads and maintain health. The best feature of white balsamic vinegar is that it does not have a strong taste.
This makes the vinegar a perfect fit for different salads and food items. It allows us to both enjoy the actual taste of the food and gain the benefits of the vinegar. Did you try the white balsamic vinegar yet?
A healthier version of the vinegar is the white balsamic vinaigrette. Here, we experience different tastes through potent ingredients all at once.
The nutritious benefits of ingredients like dried mustard, garlic powder, and lemon juice are easily consumed in one place. Try the easy-to-make DIY white balsamic vinaigrette and experience nutrition-infused gourmet meals.
Frequently Asked Questions
Why Should We Switch to a Low Sodium Salad Dressing?
Salad is one of the most preferred healthy meals that Americans opt for. It is a healthy meal that can easily turn unhealthy by adding just one ingredient: salt. Salt is one of the most common ways that lead to an increase or decrease of sodium levels in our body. Increased levels of sodium lead to several severe body functioning problems. So, why not use a low-sodium salad dressing to omit salt usage and enhance the taste of the salad?
How is White Balsamic Vinegar Different from Other Kinds of Vinegar?
White balsamic vinegar is a mild vinegar with moderate sweetness. The vinegar is a safe option that contains natural sweetness and stabilizes blood pressure levels. Alternatively, white vinegar and apple cider vinegar are the two common vinegar most of us are familiar with.
How Long Will the White Balsamic Vinaigrette Last?
There is no defined shelf life to the vinaigrette. Normally, it is seen that one batch or jar of the vinaigrette lasts for about two weeks. However, it may vary. So, it is highly advisable to check the salad dressing frequently. Before using the salad dressing, smell it or taste a drop to confirm its viability. It is the best way to determine the usage of the vinaigrette.
Is it Mandatory to Refrigerate the White Balsamic Vinaigrette?
Well, this depends on the region and the current season of the region. The standard protocol is keeping the low-sodium salad dressing in a dark, cool space. So, keeping the vinaigrette in the refrigerator for people living in tropical and subtropical regions is important.