A tiring day, and you are wondering what to prepare that pleases both the tongue and the gut? You must be wondering if this is even possible. Well, you will be surprised to know that many such dishes are available that are not only delicious but can also be cooked easily.
One such dish is Instant Pot pinto beans. This instant pot dish is healthy, easy to prepare, and a great protein, fiber, and vitamin source.
It is advantageous because you do not have to start the preparations the day before. Rather, you can make them whenever you feel like eating them. The recipe is super easy and requires only a few ingredients.
They taste delicious and are perfect when you are tired or busy and do not have much time to make a difficult dish.
Why Instant Pot Pinto Beans?
Can be cooked easily: These can be easily made within an hour, so you do not have to worry if you are running short on time. Just assemble the ingredients and follow the recipe.
Healthy and Nutritious: Instant pot pinto beans are a low-fat diet, so if you are health conscious, this dish is perfect.
Does not require any advance preparations: There are only three steps involved in the instant pot pinto beans recipe. Moreover, there are no specific preparations required in advance. This makes them a good option for people who refrain from cooking because of too many steps involved in cooking.
Versatile: There are various ways in which you can cook pinto beans. You can add ingredients like green chili and garlic powder to make it spicy and a veg or non veg dish as per your taste.
How to Cook Instant Pot Pinto Beans?
Cooking instant pot pinto beans is an easy process. There are only three steps involved in the same. This makes it a good option for quick snacks. Moreover, you do not need any specific preparations to cook the beans. Neither do you have to purchase the material from the market.
Everything is available in the kitchen only. Before you begin cooking, assemble all the ingredients and materials required. Below is a concise guide on how to cook delicious instant pot Pinto beans yourself.
Depending on the ingredients involved, two methods can be used to cook the instant pot pinto beans. If you want to make plain pinto beans, follow the first recipe. If you want to add other ingredients like bacon or broth, then you can go for the second recipe.
Before moving on to the recipe, assembling the materials and ingredients required is important. Here are the main materials and ingredients you will need to cook the instant pot of pinto beans.
Materials Required
Ingredients Required
| | |
| --- | --- |
| Items | Quantity Required |
| Pinto beans | One bowl |
| Salt | As per the taste |
| Pepper | As per the taste |
| Red Chilli | As per the taste |
| Water | Not more than half of the cooker |
Alongside the essential ingredients, you can also have a set of a few Secondary ingredients if you plan to create an innovative dish from your end with the addition of flavor to it. For such a case, you can consider having ingredients like Bay leaves, Garlic powder, Bacon, and Olive oil.
Cooking Recipe for Instant Pot Pinto Beans
Pinto beans are a perfect dish for a quick meal. This is simple to cook; you need not make extra preparations for the bacon or broth. Use the following procedure given below, and you are done. You can add seasonings to the dish as per your bias.
Moreover, We have segregated the recipe into two segments, starting with the making alone. At the same time, the other includes some other ingredients with details in the section below. Let's get started.
Step 1: Rinse the Pinto Beans Thoroughly
The first important step from a health perspective is cleaning the beans properly. Remove any stones or other undesirable elements from the beans, and then rinse the beans thoroughly with water.
Step 2: Put the Beans Into the Instant Pot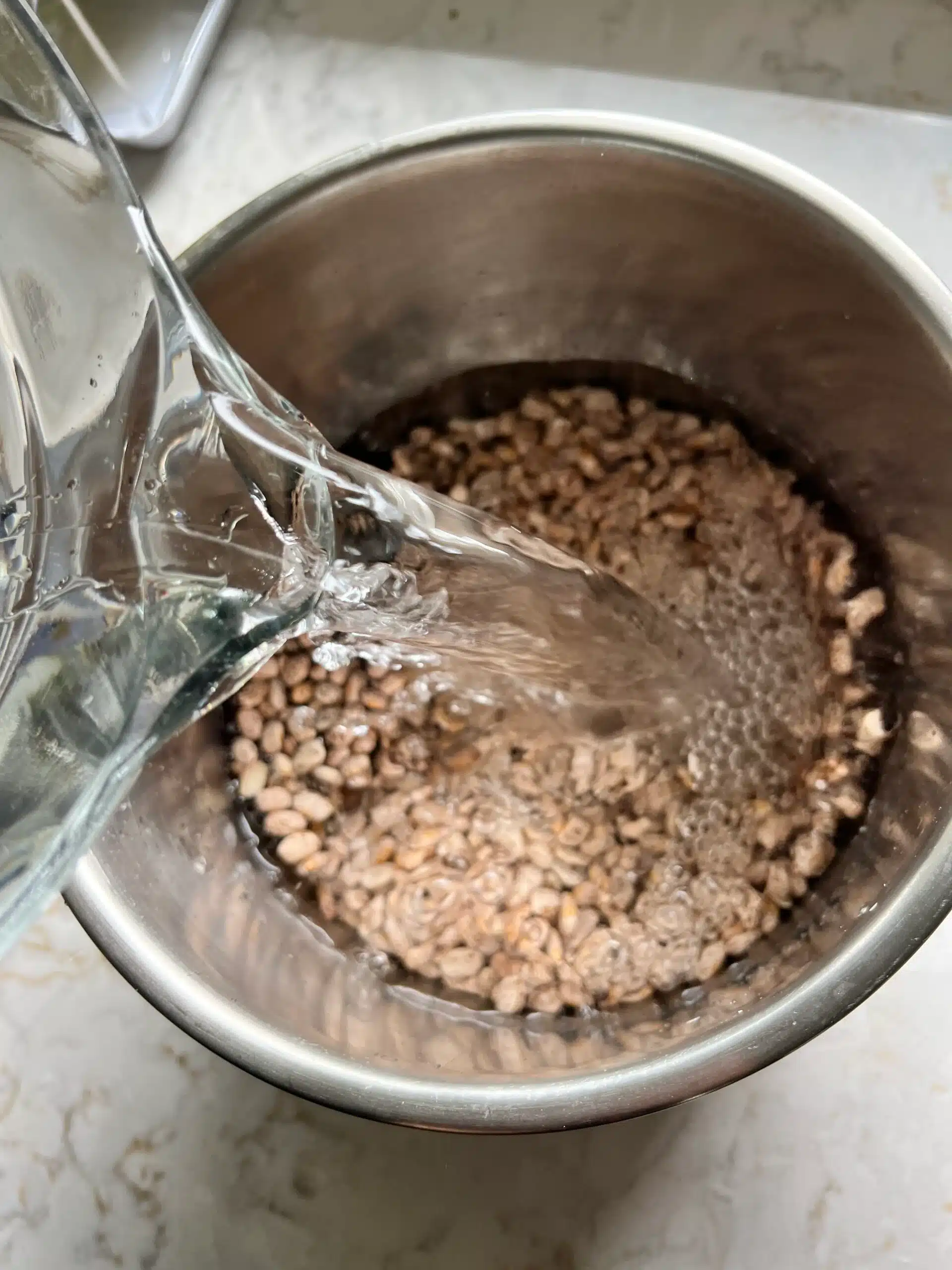 When making plain pot beans, you do not add any extra ingredients. All you need are the beans, salt, and pepper. Fill the pot halfway with water and stir all the ingredients well. You can also add olive oil for the instant pot pinto beans to taste better. You can also add other flavoring agents like garlic or bay leaves.
Step 3: Save the Setting to Pressure Cook on The Instant Pot
In the instant pot, select pressure cook and set the timer to 30 minutes. Leave the cooker for 10 minutes to release the pressure. If there is still any pressure, then release it further. If the beans aren't soft, you can pressure cook them for ten more minutes.
Step 4: Serve the Instant Pot of Pinto Beans
Once the beans are ready, take them out. If you want to keep water, then serve them as it is. If you want to eat dried pinto beans, drain the water and eat. You can add toppings to the instant beans for an attractive look. You can sprinkle coriander leaves for the same. These beans can be used as a main dish and a side dish for other dishes.
Step-By-Step Recipes with Other Ingredients Added
No other steps or cooking techniques are needed when adding ingredients to pinto beans. You need to cook the ingredients briefly before pressure cooking them. The steps are summarised below for an easy approach.
Step 1: Clean the Instant Pot Pinto Beans Properly
To ensure that there are no undesirable elements in your Pinto beans and that your beans are healthy and disease-free, wash them thoroughly before cooking. Although there is no need to soak the beans overnight, if you wish to cook them a little faster, you can soak them for 30 minutes before cooking.
Step 2: Cook the Bacon
You are ready to cook once you have cleaned all the ingredients. Prepare all the other things you want to mix with your pinto beans. When adding bacon, select the sauté function and cook the bacon for 5-10 minutes.
Step 3: Mix All the Ingredients Well and Cook
Yes, that's it! Now, you can mix all the ingredients in the instant pot. Set the cooker to pressure cook and set the timer for 30-40 minutes per your preferences. Once the beans are cooked at high pressure for the set time, allow the pressure to release naturally.
Step 4: Chop the Bacon
The bacon can't be eaten as a whole, so before serving the beans, take it out and chop it according to your wish. You can also mash the beans; otherwise, leave them as they are.
Step 5: Serve Your Final Meal
Once you have made any changes required, serve the instant pot of pinto beans and relish the taste. You can eat these delicious pinto beans with bacon and broth as a whole meal to keep you full until the next meal.
Health Benefits Associated with Pinto Beans
Pinto beans are highly nutritious. They are good food for people of all age groups. They have several benefits, and a few of them are listed below.
They are rich in proteins: Pinto beans are one of the foods with a high protein content. Therefore, it is a good source of protein for vegetarians.
They are fiber-rich: This is another advantage of pinto beans that makes them a good meal option. As fiber-rich food, it is good for the heart and digestive system.
It is good food for diabetic patients: Pinto beans have a lower sugar content when compared to other food items, so people with diabetes can also consume them without hesitation.
They have a high antioxidant concentration: Being high in antioxidants, pinto beans are known to be beneficial for the retina and aid a healthy growth process in human beings.
Your heart specialist: Cholesterol, known to all, is a major heart antagonist. However, pinto beans are a solution to the same problem, as they reduce cholesterol levels significantly.
Conclusion
It is indeed said that cooking is an art that requires patience. It is not difficult to master the art if you have the right recipes. Half of the problem gets solved when you have the right recipe. When you are planning to prepare instant pot pinto beans, you can follow the recipes mentioned above.
Pinto beans are very delicious and have several health benefits, too. In addition to this, they can be cooked in just three to four steps. You can cook them in many ways, as per your preferences, and once ready, serve them to your friends and family and enjoy healthy and easy-to-cook food.
So, what to wait for? Follow the recipe and make your tasty instant pot of pinto beans today, and don't forget to share your experience in the comment below.
Frequently asked questions
Which Pinto Beans are Best to Be Made Instantly?
You can either use dry beans or canned beans. If you want a cost-effective option, you can choose dry beans. On the other hand, if you are looking for beans that will take less time to cook, you can choose canned beans.
Is Instant Pot Pinto Beans a Vegetarian or Non-Vegetarian Dish?
Well, instant pot Pinto beans can be both vegetarian and non-vegetarian, depending on the ingredients you use in cooking. If you use chicken broth, it will be a non-vegetarian dish. On the other hand, if you use vegetable broth, it will be a vegetarian dish.
For How Long Do the Instant Pot Pinto Beans Remain Fresh to Eat?
You can consume the homemade instant pot pinto beans for 3-5 days. But, after that, you must store it well in the refrigerator. However, it is highly advisable not to have it after that and to prepare it all over again if you crave it.