Mental Health is a crucial aspect of our lives, and it isn't your fault if you suffer from depression. The pandemic of Covid-19 has paved the way for the importance of mental health, and it is no shocker that more than 21 million people in the U.S. alone experience major depressive disorders.
This count is quite less as compared to the actual data since a lot of people do not come up for treatment or therapies; they have their reasons for the same.
However, if you are looking for medications or supplements for depression, be rest assured because we have your best interest in mind. We are well aware of the side effects if one does not receive proper medication.
While one supplement works wonders for some, it might harm someone else's condition. Go through this examined list of 14 key supplements that will help you tackle your depression.
What is Depression, and What are Its Symptoms?
Depression is a mood disorder and a state of feeling sadness and loneliness. It is a common mental health condition that determines how you perceive the way you think, sleep, act, and eat.
There can be any valid reason, like losing your loved ones, childhood trauma, or something you cannot discuss in the open world. There are ways to cure and tackle depression, which include therapy and treatment.
Some of the symptoms one can notice if suffering from depression are:
No longer enjoying the things that you loved once.
Irritated rather than sad.
Easily frustrated and restless in mind and body.
Trouble sleeping or too much sleeping.
Having low energy and frequent fatigue.
Self-harming thoughts.
If you wish to know more about the condition, it is always preferable to read or visit a doctor, or talk to a friend. You will always receive help.
Top Supplements that are Super Effective in Tackling Depression
There are a lot of medications and supplements available in the market, and you must know which one is the right one for you.
After thoroughly evaluating the various aspects, such as risks, efficacy, etc., we have brought forward the best supplements that will benefit you.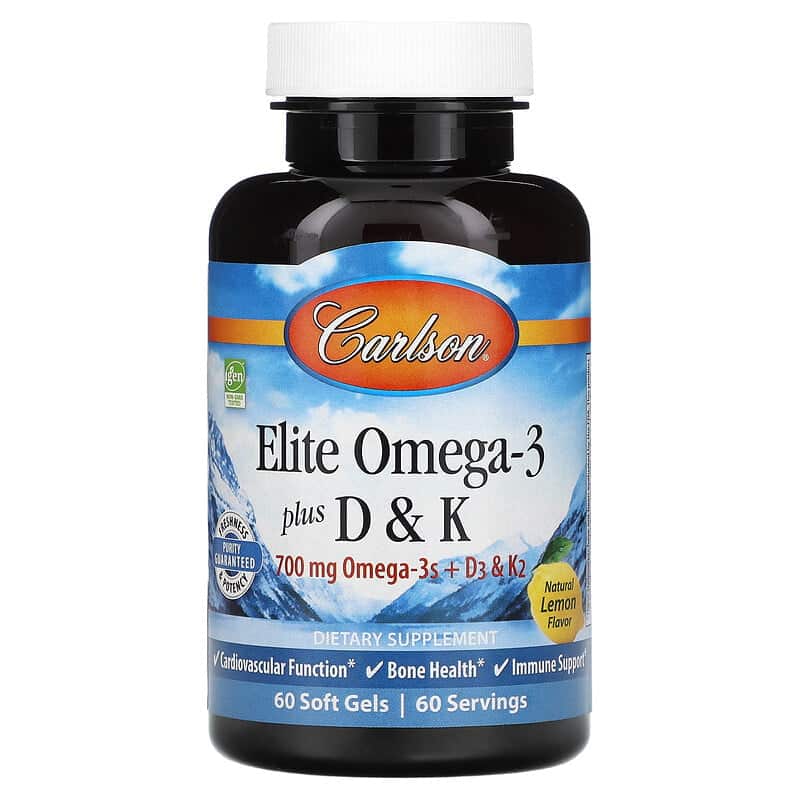 It is an International Fish Oil Standards(IFOS) certified fish oil supplement. It might not show results on its own, but when consumed in conjunction with antidepressant medications, it is proven to be effective to cure symptoms of depression.
Carlson Elite EPA Gems contain 1,000 mg of EPA, and a single bottle is enough to last for 4 months. The fish oil supplements for depression are clinically tested through ConsumerLab.com's voluntary certification program.
The aftertaste of this fish supplement is minimal, but you can refrigerate it if you experience fish burps after its consumption.
Pros
High Omega-3 dosage
Effective for the Brain and Joints
Cons
Rhodiola is a herb that is a proven stress response stimulator. By affecting the neurotransmitter receptors and reducing overactivity of the hypothalamic-pituitary-adrenocortical(HPA) axis, Rhodiola capsules as a supplement for depression are an effective way of reducing symptoms of depression.
The Pure Encapsulations Rhodiola Rosea contains 100g of Rhodiola rosea and has been verified by the United States Pharmacopeia(USP). Taking rhodiola daily for 6 to 12 weeks can reduce depressive symptoms, and it has fewer side effects.
Rhodiola has a sweet and slightly bitter taste and smells similar to roses.
Pros
Cons
The link between Vitamin D and depression is logical, which is explained in the theories of SAD. As per research, Vitamin D supplements for depression work the best when consumed 2000 Individual Units(UI) or more per day.
Vitamin D reduces the risk of acute depression by reducing inflammation, regulating mood, and protecting against neurocognitive dysfunction. People who have a deficiency of Vitamin D tend to be prone to depression, and consumption of the same can reduce the severity of the problem.
Pure Encapsulations Vitamin D3 provides 10,000 IU(25 msg), a high dose for curing depression. It is NSF International certified.
Pros
No artificial preservatives
Affordable
Cons
High calcium levels
Nausea or diarrhea
Vitamin B12 and B13 help in reducing the symptoms of sad depressive symptoms more than non-melancholic ones. While the logical intent for the same is yet to be found, B12 can uplift the mood and has negligible side effects.
Vitamin B12 can be obtained through everyday food except if you are vegan. In that case, it is advisable to take B12 doses to cure your depressive state of mind. There is nothing wrong with taking care of yourself.
Thorne Research B Complex #6 is NSF Certified and has active forms of Vitamin B, which does not contain major allergens and helps your body absorb the vitamins faster.
Pros
Allergen friendly
NSF Certified
Cons
High Dose
Constipation and upset stomach
S-adenosylMethionine(SAMe) as a supplement for depression is effective when consumed in the range of 200- 1600 mg daily. They are naturally occurring body compounds that produce neurotransmitters dopamine and serotonin and regulate the body's hormones.
SAMe is an effective supplement for depression but not as effective as SSRIs and other antidepressants. However, it has been verified through ConsumerLab.com's voluntary certificate program for its potentially harmful contamination.
Nature's Trove SAM-e is effective for mild to moderate depression, which can increase the risk of Cardiovascular disease(CVD) if not consumed appropriately.
Pros
Budget-friendly
Moderate dose
Cons
Not suitable for severe depression
It might interact with antidepressants
St. John's Wort helps in treating the mild to moderate symptoms of depression rather than the chronic serious depressive state. This means only the ones with mild symptoms will benefit from this supplement.
Out of all of the St. John's Wort, only 40% of the produce is clinically tested, and NOW St. John's Wort is one of those. But, make sure you consume the supplements for depression in the right proportion since 900 mg of the supplement a day is considered effective for treatment. At least 0.3% hypericin and 1% to 3% hyperforin is an effective dose.
Pros
Cons
Interacts with other medications
Skin rash
Omega-3 fats are essential and are superior supplements for depression compared to placebo treatments. As discussed in the article, omega 3 is a fish oil supplement. According to a review, a higher ratio of eicosapentaenoic acid (EPA) to docosahexaenoic acid (DHA) is effective in treating signs and symptoms of depression. EPA and DHA are both concentrated in seafood.
A minimum of 1000 mg of EPA is effective for the treatment. Nordic Naturals EPA Xtra, consisting of 1060 mg of EPA and 260 mg of DHA, meets the criteria for effective treatment.
For utmost transparency, the Certificate of Analysis(COA) is available online to ensure the product is harmless.
Pros
COA Available
Lemon Flavored
Cons
Melts in high-temperature
Expensive
Zinc boasts anti-inflammatory properties and is critical to mental health. A deficiency of zinc in the body can lead to severe symptoms of depression. Zinc as a supplement for depression can significantly help lower depressive symptoms in people having clinical depression.
Pure Encapsulations offers the recommended dose of 15-25 mg of high-quality zinc picolinate. It is tested multiple times throughout manufacturing. If you are prescribed a higher dose, Pure Encapsulated is also available in 30 mg variants according to your requirements.
Pros
Available in 2 variants
Vegan
Cons
Stomach cramps
Might affect reproduction
Magnesium is used for psychiatric purposes since magnesium malate and threonine have therapeutic effects on the human brain. Magnesium can cure depression along with other brain diseases like Alzheimer's and age-related memory loss.
Magnesium L Threonate is a salt formed from a mixture of magnesium and threonine acid. It increases the cognitive functions of the brain, thereby increasing activities and reducing stress levels.
Even though the testing of magnesium as a supplement for depression is still in the early stage, it is advisable to consume 300-400 mg of magnesium supplements each day for effective results. Magnesium L Threonate provides just 114 mg of magnesium in a 2000 mg bottle.
Pros
Increased cognitive function
Improves mental health
Cons
Still in the testing stage
Low blood pressure
N-acetyl-L-cysteine (NAC) modulates the symptoms of psychiatric disorders. It effectively induces serotonin levels, which in turn decreases the stress hormones.
NAC significantly reduces depressive symptoms, which was also highlighted in a review of five students. They reported more effective use of NAC over placebo treatment for depression.
Pure Encapsulated NAC 900 mg is one of the best ways to intake NAC in the body since it is tested multiple times throughout the manufacturing and thus has very few side effects.
Pros
Cons
It may impair blood clotting
Epigastric pain
Saffron, the spice, not only adds flavor to the food, but it also has antioxidants compound packed in it. Moreover, it has proven remedial benefits for depression. It increases the mood-boosting neurotransmitter in the brain.
Saffron is said to have the same effectiveness as antidepressant medication, and reviews show it is more effective than placebo.
The NOW Saffron 50 mg is certified by the Underwriters Laboratory and exceeds the Current Good Manufacturing Practices (CGMPs). It is widely available at nationwide pharmacies and thus accessible to all.
Pros
Cons
No third-party verification
Appetite changes
Altered brain energy is said to induce the development of depression in a person. Creatine can help maintain brain energy and thereby control the symptoms of depression.
Thorne Creative is an unflavored, versatile supplement that can be mixed with any beverage. Regular consumption of 2-10 g creatine each day can reduce symptoms of major depression.
Thorne Creatine is NSF-certified and free of harmful substances that can harm your health.
Pros
Cons
Non- Veg
Some complain of grittiness
Vitamin B6 is important for the development of nerves, skin, brain, and other parts of the body. While it is found in cereal, legumes, and eggs, it can also be prepared in labs.
Vitamin B6 is useful to cure depression, Alzheimer's disease, and menstrual cramps. Daily doses of Vitamin B6 can change the trend toward reduced depression.
EZ Melts Vitamin B6 is a sugar-free supplement that is non-GMO. It is advisable to consume 1.3 mg of Vitamin B6 every day for effective and visible results.
Pros
Overall Health Improvement
Zero Sugar
Cons
Nausea
Disfiguring skin lesions
Lack of iron in the body of humans causes psychotic disorders such as anxiety and depression. Supplements for depression include the intake of iron to regularise the dopamine levels of the body.
The brain will process emotions properly only with the right amount of iron in the body. If the body is unable to obtain the required iron content from the diet, it is important to adhere to supplements for depression.
NOW Supplements Iron 18 mg is the right dose of iron for your body since it is clinically tested to cure symptoms of depression. It can fight fatigue, brighten the mood of people, and bring them out of the mental state of depression.
Pros
It affects mood and physical health
Regulates body temperature
Cons
Stomach Cramp
Nausea and vomit
Taking supplements and medications is a great way to deal with depression, but there can be certain dangers. To avoid those risks and cure depression without any side effects, we suggest the 15th supplement to 'choose organic.'
Organic Lifestyle Habits
Resorting to supplements for curing the symptoms of depression is a great option, but, as per Forbes Health, changing lifestyle habits can also make significant changes in improving mental health.
Healthy eating habits and regular exercise can do the much-required task that many medicated supplements might not help with—physical activity like yoga and exercise releases happy hormones, which in turn helps in managing depression. Meditation is a great way to beat depression since it lowers the body's cortisol level.
Adhering to a healthy diet and cutting down on white flour, sugar, rice, and potatoes can help a lot in reducing carbs and helping improve mental health. In modern times, the intake of sugar and unhealthy food, on top of a lack of physical activities, has surged the symptoms of depression even among kids.
Final Thoughts
It is important to take care of your physical and mental health since life can be quite stressful these days.
Physical activity and maintaining a diet is one way of tackling it, but in case you feel the need to resort to medication, look for a doctor and get some medicine prescribed.
You can refer to the given supplements to achieve good mental health in addition to the antidepressants.
It might show results faster than you expected. But be very cautious about the side effects and dangers of taking supplements.
Read the pros and cons of each supplement carefully and choose the right one for you.
Do let us know if these supplements benefited you at all. We would love to know you achieved a healthy mind.